Garanti BBVA held the Turkish round of the world's largest fintech competition, BBVA Open Talent, for the fourth time at the Impact Hub in Istanbul. Five startups reached the finals of the event, which encourages innovating businesses to submit cutting-edge creative projects that contribute to financial technology. Pisano was the event's top prize winner and as such has qualified to attend the BBVA Open Summit in Madrid on October 24.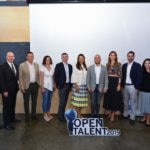 Commenting on Turkey's BBVA Open Talent contest final, Garanti BBVA Executive Vice President, Didem Dinçer Başer said, "The financial ecosystem and everything that surrounds it is at the heart of BBVA. BBVA has supported enterprises for more than a decade with the Open Talent program, championing initiatives that offer talented and creative solutions. To this end, "Open Talent has become the world's most important fintech competition for initiatives that directly and indirectly contribute to financial technology, and thus finance", she added.
Dinçer Başer went on to talk about the great lengths the bank has taken to interact with and nurture fintech initiatives. She stressed that these initiatives are the catalysts to transformation in the industry.
Talking about the Turkish winner, she said, "We are delighted to have supported our fintech entrepreneurs by hosting the Open Talent event. This year, Pisano won the regional event, and it will go on to compete on the global level at the BBVA Open Summit in Madrid. We wish Pisano best success in the final, where it will be able to showcase its work globally, while meeting international experts in the field."