González-Páramo: "Europe should promote a solid digital road map"
BBVA's José Manuel González-Páramo believes  that "Europe should promote a solid digital road map" because it has fallen behind, given the hegemony of the U.S. and China, he indicated this morning in an event organized in Madrid by the ESYS Foundation.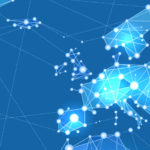 The Chief Officer of Global Economics, Regulation & Public Affairs at BBVA, José Manuel González-Páramo, participated in an event on "Spain and Europe in the digital transformation" held in Madrid. In his presentation, he maintained that strengthening the digital economy should be a priority in European leaders' political agenda, to avoid the risk of dropping to second division in the next five years.
José Manuel González-Páramo explained this idea in the context of the fourth industrial revolution, which is having a profound impact on all aspects of society and the economy. Big changes are taking place at a dizzying speed, he noted. In his view, all industrial sectors are being forced to take a thorough look at the way they work and do business. This, he said, is where Europe has to foster the ideal conditions to boost the digital economy.
BBVA's Executive Director offered several reasons why Europe is not a global economic player in the technology industry. First, he argued that the fragmentation of the European ecommerce market and digital services hampers the potential of the single European market. For example, only 16% of EU consumers buy from stores based in other countries and 10% of online sales for EU companies come from non-EU customers. Gonzalez-Páramo  also warned that European entrepreneurs face too many obstacles to creating and expanding startups.
As solutions, he pointed to the creation of a single digital market where digital goods and services can move among the 28 member states under the same set of rules. He also mentioned other regulatory pieces that are underway, such as the capital markets union, the banking union and a common fiscal plan with a homogeneous level of taxes. Finally, he described the measures designed to improve digital companies' access to capital, improve insolvency regulations, attract talent through labor incentives and boost workers' training in digital skills. On this last point, he recalled that 40% of European companies cannot find workers with the skills they need to grow and innovate.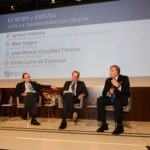 From left to right: D Ignacio Astarloa, Fundación Esys Advisory Board and ex Secretary of State of Security, D Emilio Lamo de Espinosa, Real Instituto Elcano President, D José Manuel González-Páramo, BBVA Executive Director and D Mike Rogers, ex Congressman of the USA
González-Páramo then took time to discuss the importance of digital information in this day and age. In his opinion, data has become the new oil of the 21st Century and Europe has to foment a data-based economy. What is the path forward? An adequate regulatory framework that promotes data flows, both within and beyond the EU borders. On this point, he mentioned that the cloud is a key technology to help companies become more competitive.
Finally, in terms of cybersecurity, he said that apart from the importance of regulation and coordination among governments, raising awareness among people and companies, education on the topic from an early age, and companies having protocols that include emergency and communication plans, are all fundamental.
To conclude, José Manuel González-Páramo stressed that Europe has to work vigorously to build a solid digital road map, bolstered by its strengths: a large market of 500 million people, large companies, innovative SMEs and a creative society.
BBVA's Executive Director participated in a panel, together with Javier Solana, President of the ESADE's Center for Global Economics and Geopolitics; Mike Rogers, former U.S. Congressman; and Emilio Lamo de Espinosa, President of the Real Instituto Elcano, in a round table discussion moderated by Ignacio Astarloa, former Secretary of State for Security.