Great Place to Work has chosen Cristina de Parias as the Best Manager of 2016 and BBVA Spain as one of the best companies in the country to work for
Great Place to Work has recognized the capacity and commitment of Cristina de Parias in her role as Director of BBVA Spain. This recognition highlights the strategy and vision of the Group, which considers people as the foundation for success.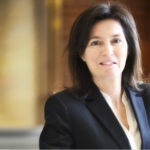 Cristina de Parias started to work for BBVA in 2000 as Director of Payment Channels and has held several positions of great responsibility since then. In 2014 she was named Director of BBVA Spain and has also been President of Catalunya Caixa since 2015. Great Place To Work has taken a very positive view of her capacity to form and lead teams, her contribution to business results and her trustworthy and transparent management skills. Also taken into account were her business and people-oriented modus operandi and her capacity to overcome old management models.
Cristina was given this award from among all the companies that make up the "Great Place To Work" ranking in Spain this year. This report is based on an analysis of the trust, sense of pride in belonging and the collaboration of her employees. In this sense, BBVA has been considered as the best company to work for in the Spanish banking sector and ranks sixth in the list of companies with more than 1,000 professional employees. It also ranks eighth in the overall list of the 25 best multinational companies to work for in the world.
A new direction
Recognition of Cristina de Parias and BBVA's presence in the various studies presented by GPTW are testimony of one of the principles of the Group's new strategy and vision: people are the key to our success and that is why we endeavor every day to care for our professional workforce and the people that all of us work for.