How many times have you gone to a search engine to find an answer for something, but didn't know exactly how to frame your inquiry to get the desired result?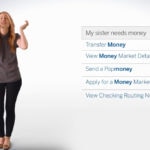 Fortunately, search engines know this is a common dilemma and assist searches by providing suggestions based on what is being typed. In the same vein, in January BBVA Compass debuted an all new search tool inside of its mobile app to help users capitalize on its own features and functionality. Similar to the search engines, the BBVA Compass app includes a search bar complete with suggested searches. What makes BBVA Compass' search different is the option to activate a search via voice.
Carriles: Making it easy to find with both type and voice is simply the next step in the app's evolution.
"Having so much functionality that we needed to give users an easy way to access it is a good problem to have," said BBVA Compass Head of Online and Mobile Banking Alex Carriles. "It means we're accomplishing what we set out to do, which is to give users the full functionality of the bank, on their phone. Making it easy to find with both type and voice is simply the next step in the app's evolution."
With the search, users simply start typing - or talking about - what they would like to do using the search bar. The app automatically displays a list of applicable functionality from which the user can select. When the client taps on one of the results in the list, the app automatically navigates the client to the exact spot in the app where that functionality is or information is located.
To highlight the search feature and others, BBVA Compass recently launched a series of new commercials airing locally and on social media. Actress Sarah Pribis, host of mobile app HQ Trivia, is the spokesperson for the commercials, which use words that include 'app' to describe its multifaceted capabilities.
"With all of the voice enabled assistants available today, it only makes sense that our search is also voice enabled," Carriles said. "The commercials that emphasize the functionality, including search, provide weight to the mobile app's newest additions, and will hopefully engage our customers to explore the app's functionality even more."
---
For more on the BBVA Compass Mobile App, click here.