Drones, tractors with GPS and data transmission, driverless cars moving around factories…more and more products are reaching the supermarkets from agro-food companies with state-of-the-art technology.
November 16, 2014 was not just any Sunday for the more than 1,000 employees of the Campofrio factory in Burgos, Spain. That day, they woke up to the news that their workplace was in flames.
The fire was of such dimensions that the authorities considered evacuating people from their homes in the city center of Burgos, located 10 kilometers away. "I went there four days later and it still smelled of smoke," recalled Javier Álvarez, CIO of the meat company, during Cibitec 2017, a conference organized by the Industrial Engineers Guild of Madrid.
Today, less than three years later, Campofrío can speak proudly at public forums about its new factory in Burgos, La Nueva Bureba, which it regards as a model of Industry 4.0.
After making an investment of 225 million euros in its reconstruction – known inside the company as Project Phoenix  – La Nueva Bureba is an example of the integration of data, connectivity and digitalization. It has, for example, 230 WiFi access points and 38 driverless vehicles with geolocation services, circulating around its more than 100,000 square meters of space.
But beyond the data, La Bureba occupies a large part of the program about Industry 4.0 in the agrofood sector during the Cibitec 2017 meeting, because of its extraordinary character. Paradoxically, the tragedy in 2014 allowed Campofrio the luxury of starting off again from scratch. "The situation made us think, starting from zero, about what we wanted our future factories to be like. In other circumstances – without a fire and with a functioning factory – carrying out a project like this in less than five years would have been impossible."
At La Nueva Bureba, it took two years, "because we had an enormous motivation: we had committed ourselves to that period of time with the workers at the factory, who were affected by an ERTE (Temporary Employment Regulation Order)." To achieve the goal, they faced all sorts of situations, but Álvarez particularly remembers "the difficulty of finding partners who were capable of integrating all the processes, of offering a turnkey factory. There´s a lot of noise about Industry 4.0 but really, few operators understand the process," Álvarez says. Cisco was the only technological partner in the Nueva Bureba factory, a process about which Álvarez has many anecdotes. "We have the biggest industrial beam in Spain. We brought it from Navarra and we had to cut off traffic all the way to Burgos."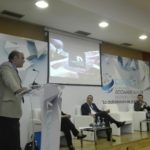 Javier Álvarez of Campofrío addresses the public attending Cibitec 2017.
On the other side of the podium, Enrique Mandado, head of industrial processes in Europe for Grupo Calvo, agreed. His company is undergoing a process similar to that of Campofrio at La Nueva Buraba, trying to adapt its industrial processes to digitalization, although obviously with a different speed and urgency. In his opinion, it´s not just about technology and logistics; corporate culture is also at play. "The organizational structure must be adapted to the change, keeping in mind that technology is a means, never an end."
That's why Julio Pinto, director of operations at Bodegas Matarromera, recurred to an old norm that he used when working as a consultant at Accenture, specializing in logistics: "First organize, then automate. Don´t try to automate thinking that's the way you´re going to make order out of chaos. That´s a common error," he said.
At Bodegas Matarromera, which in recent years has invested as much as 20% of its budget in I+d+I, and whose president this year received the National Innovation Prize, they innovate in products – non-alcoholic wine, cosmetics with the properties of grapes – and processes: drones that monitor the vines and predictive algorithms based on the historical data of the winery, all of which are now part of the day-to-day work of the  company, located on the banks of the Duero River.
Will robots come to control the production of such an artisanal and traditional product as wine?  "Digitalization is creating a new type of employee: we, for example, are training a drone pilot," says Pinto. "And in our business, we don´t work with closed formulas: the data can say what they want, but if the taster says the wine has to be more time in the barrel, it will stay there," he says with a half smile.