Algorithms, emotions and Proust's Madeleine: a debate on the future of AI
What happens when an artificial intelligence system recommends a movie or a restaurant? Or a financial product?  To what extent can an algorithm get to know people? These and many more questions were raised during the presentation of the BBVA's Data and Analytics project 'RecSys, a recommendation in the era of machine learning', which brought together experts from diverse fields (cinema, design, law and gastronomy) to discuss how society is changing with the arrival of these technologies.
Although people may be unaware of it, artificial intelligence already plays a role in small things we do daily such as looking for a film to watch on Friday night, or finding the perfect hotels for the holidays. But what is behind these recommendation algorithms, which, bit by bit, are influencing our choices?
Iskra Velitchkova, an expert in visual thinking at BBVA Data & Analytics, posed this question and decided to try to give an unconventional answer to it. To do so, she created the RecSys project, an "exercise of the imagination" that uses data visualization to contemplate how 'machine learning' shapes the world, narrowing distances between people and creating new, unexpected connections. "How much time is there between clicking on a mobile and finding a restaurant?; What happens in that moment of time?; What is out there beyond our daily searches?" were some of the questions the visual expert shared with the public during the presentation of the project in Madrid, which aimed to open the debate "to society" to share ideas and questions.
"We have come here with few answers but a lot of questions. We want to listen," explained Fabien Girardin, co-CEO of BBVA Data & Analytics during the introduction to event, which was attended by an unusual group of guests ranging from experts in artistic direction to a member of the Madrid Supreme Court of Justice. Bringing different points of view to the table, the attendees addressed how intuition, data-gathering and advanced technology are vital to making the links that bring value to their respective fields.
A recording by a security camera for Francisco Vieira, the president of the Madrid Supreme Court of Justice, forms the starting point for an investigation that may lead to a the solving of crime. In his case, respect for privacy is one of the major concerns that needs to be addressed with the arrival of machine learning algorithms that can "impinge on our personal interactions", he explained.
"We are going through a moment in which the administration of justice is playing a key role in the defense of consumer interests", Vieira argued. The legal expert said that you have to keep the importance of transparency in mind in this new paradigm, both in the case of private companies as well as public institutions when it comes to making decisions based on machine recommendations. "A product recommendation has to be subject to conditions that convey accurate information to citizens and customers", he added.
Alain Bainée, the artistic director who won a Goya for the production of the film Snow White (2012), takes quite a different starting point. A combination of colors, light, and subtle visual references make up the material he uses to create experiences that transport the viewer to a specific idea or emotion. "I find the idea that an algorithm might replace something emotional in a drama, dangerous", the producer explained.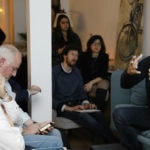 Alain Bainée, during his intervention at the event in Madrid.
Along the same lines, Héloïse Vilaseca, director of innovation of the world-renowned Spanish restaurant Celler de Can Roca, shares the idea that algorithms cannot take the place of "intuition" or the "magic" of cinema or gastronomy, a "craft" experience in which dishes are connected to emotions and memories, which the chef tries to embody by combining different ingredients, which perhaps would not go together in an obvious way. "When we connect a dish with an emotion, it is always a hunch, an intuition on the part of the chef," she says.
Despite it all, if it were possible for algorithms to arrive at these unexpected connections, how would the seemingly magical human intuition come into play? And could the feeling of déjà vu evoked by French writer Marcel Proust in that emblematic passage in À la Recherché du Temps Perdu be recreated using artificial intelligence? This is how Velitchkova sees recommendation systems working: "Nowadays, there are algorithms that can find places where data are understood in a strange way", she says. According to the expert, if we find the places where unexpected connections are made, it is possible for them to form the basis on which those product and service recommendations that impact peoples' lives are made, whether by evoking an emotion via an image or dish or helping them save and manage their financial needs on a daily basis.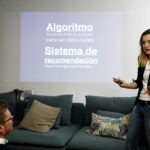 Iskra Velitchkova explains what is an algorithm during the event.
To develop systems capable of deeply understanding user needs, it is essential to have a mechanism that allows us firstly to understand and measure behavior.  This is Javier Cañada's area of expertise, an interaction designer at Tramontana, who attended the event and outlined the history of ergonomics and the different techniques used by designers to create objects, products and services tailored for human beings. "As a designer, the way I decide how things wills be presented to the user conditions how they will use them", he explained. In determining "the rules" that govern how content is presented, be it a film or a financial product, algorithms, without a doubt, have a role to play "but design does too".
A session for debate and reflection that BBVA Data & Analytics extends to the wider community and that will be continued through the RecSys project of general interest.