The most impressive thing at this year's Blockchain Summit in London was the enthusiasm and wide array of use cases for blockchain on show. Starting with its origins of digital currency and current evolution to ICOs (the abbreviation for initial coin offering) to applications in the energy and real estate sectors, there is seemingly no problem too big that it can't be solved via blockchain technology.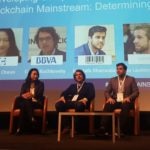 To get a feel for the diversity, all you needed to do was attend any of the panel discussions that took place around developing compelling use cases to make blockchain mainstream. Panelists discussed how they are using blockchain in their diverse sectors - and increasingly in different ways across those businesses. For example, in the pharmaceutical industry, it is being used to reduce recruitment times and increase transparency in clinical trials. In the retail sector, startups like MishiPay are building technology that allows in-store shoppers to pick up a product, scan the barcode with their phone, pay with their phone and simply walk out with it! Imagine how much more pleasant your Black Friday shopping will be once this becomes mainstream (but don't worry, it prevents theft by ensuring that if a shopper tries to walk out without paying, alarms will immediately sound).
In financial services, there are also many applications  –as BBVA knows all too well. For example, just a few days ago BBVA announced it had piloted a blockchain solution for paperless trade transactions between Europe and Latin America.
The blockchain pilot, built on the Wave platform, was carried out to automate the electronic submission of documents for an actual sale transaction between Mexico and Spain, in a move to speed up the time required for sending, checking and authorizing cross-border trades. The trial saw the time taken for document verification reduced from 7–10 days to 2.5 hours.
Speaking on behalf of the Bank at the summit, Carlos Kuchkovsky, the Chief Technical Officer of New Digital Business at BBVA, stated that "identity, data management, trust and reputation are some of the other key problems that blockchain technology and cryptocurrencies could help to improve with a global approach."
Another area focused on at the summit was the increasing popularity of ICOs, so much so that there is now an Initial Coin Offer and Token Launch accelerator program, Iconiq Lab, which sources, funds, develops and accelerates the crypto, blockchain and tokenizable startups to their own ICO or Token Sale.
Max Lautenschlaeger, Managing Partner and Sourcing Director at Iconiq Lab, pointed out that digital currencies are not stable: there is a huge gap as owners want to keep their currency and potential buyers aren't making purchases. He added that the focus at Iconiq Lab is to provide that stability and in doing so, help grow the sector.
Blockchain can also be an enabler for financial inclusion, as Building Blocks, a project that was borne out of the World Food Program (WFP) innovation accelerator, explained. Utilizing a private fork of the Ethereum blockchain, Building Blocks ran a field simulation in January 2017 that successfully tested the technical viability and usability of blockchain. It has now moved into full-development with a more robust version being piloted in the Azraq Refugee camp in Jordan. Currently, more than 10,000 Syrian refugees redeem their WFP-provided assistance on the blockchain-based system. The positive impact is greater accountability for where and how the assistance is being delivered, as well as added privacy for those receiving it.
Ultimately, the key take out from the event it this: Blockchain is a technology with a lot of promise, and each year the use cases are more tangible and relevant to other industries besides the financial sector.
The real potential of it, however, has yet to be unleashed, and that is what blockchain enthusiasts around the world are working on.