BBVA has held its inaugural Open Innovation Open Talks event in San Francisco to a packed audience of investors, startups and key commentators - both from within the financial services world and beyond.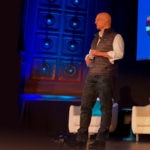 The event kicked off with an opening from BBVA's Global Head of Customer Solutions Derek White. White introduced the theme for the day as curiosity, and explained how this push to discover, innovate, bring newness has always been a vital element in societal growth - be it exploration or science.
So for BBVA and Open Innovation, the opportunity was to bring together key strategic thinkers in the high growth space to discuss, debate and share some of the insights they have on how the industry is developing and where being open to new ideas yields results.
The first speaker was David Lang from OpenRov, a California-based company that makes underwater drones for marine exploration.
Lang, whose low cost, open sourced machines are revolutionising underwater exploration, discussed how the drivers for his business came from having the same levels of curiosity about the environment that we see across all innovation ecosystems.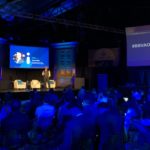 The event kicked off with an opening from BBVA's Global Head of Customer Solutions Derek White
He added that the focus for a lot of his work was on supporting the preservation of the environment in which we live - and noted that the movements in this direction had gone from preservation to activism and perhaps now society is moving to engagement. That, he explained, led to the focus for what his company builds and how it operates.
He said: "I don't think we are just building products at OpenROV, but we are giving people tools to understand their environment in completely different ways."
"When we got started we didn't know what we were doing, but instead we were simply collaborating - asking people to help us. We are constantly inviting people and never thinking that we have figured it out, it's an open ended story and there's always room for people to come in and improve."
Another conversation, titled Seed to Scale, saw Derek White and investor and venture capital manager Pete Hartigan talk through their experience in supporting startups grow.
White discussed how one key element he considered when looking at the growth potential of a business, was simply the business understanding the need for diversity and introducing more people into the mix. For example, those who understand the company's sector, those who don't but will bring new skills or thinking, and those who work in completely different areas but can help a business operate differently. You need all of these at different times as you look to scale, he added.
The power of mobile
The discussion also swung around to specific, and contemporaneous drivers for growth. Hartigan outlined how for him, the smartphone had so much power now that it was a critical element.
He said one reason was that the smartphone meant the consumer now has a seat at the table when it comes to business strategy. Why is Uber so valuable, he questioned, answering that for him it was because while it has the car drivers to physically move people around, and the government support it needs to operate, crucially, it now also has its consumers steering its service delivery through the app.
He added that in the near future all Fortune 500 companies will have three levels of oversight: the executive leadership, their Government and regulatory oversight, and their consumers through the smartphone apps. That's the power of mobile.
The pair noted that this shift is seeing businesses move from an industrial model to a network model, with distributed demand and supply. Completely different models from the old way of doing things.
The Head of BBVA's New Digital Businesses, Ian Ormerod, also took part, participating in a panel with and Dave Marvit from Fujitsu Laboratories.
Ian explained how when you are trying to generate innovation around disruption, one of the problems is that you are often trying to correct other problems too. So the key differentiator here is around culture - how willing are you to take take on new ideas and work to identify solutions to existing problems, as well as around future growth.
Asked how best startups can work with big businesses like BBVA, Ormerod said: "The biggest thing you can do to work with a big corporation is understand their customers and what problems your solution will address. The other thing I would encourage more is ensure you do your homework before you meet them. Don't just rely on the wow factor of your innovation."
BBVA Open Talent
The audience also heard from a number of business who have come through the bank's external partner engagement programs, like last year's Open Talent Winner Change, who described how the business was now working increasingly closely with the bank, with a view to seeing how they can partner together more closely.
The 2018 BBVA Open Talent competition is now open for registrations until mid May, with more information available here.
BBVA Open Talent is now in its tenth edition of the biggest fintech competition in the world, which has already served as a platform for startups from over 80 countries in previous years. This year the business is once again seeking the fintech ideas most likely to transform the world of financial services in the future, both for consumer and for businesses.