BBVA spearheaded Latin America's digital banking push in 2017
BBVA continued leading the way to innovation in Latin America during 2017, becoming the region's digital bank par excellence. That distinction was confirmed by Global Finance magazine, which judged BBVA's mobile banking app to be the best in Latin America. BBVA's local franchises in the region have set the pace in the development of products and services which, just as in the case of mobile banking, aim to make their customers' lives easier and deliver on the Group's intent to bring the age of opportunity to everyone.
In Mexico, BBVA Bancomerrolled out two new features in its Bancomer Móvil app: Préstamos Disponibles (Available Loans)- which displays the list of pre-authorized loans a customer can take out- and 'CheckUp', - which offers a graphic overview of a customer's financial health. The bank also developed BBVA Plan, an app that helps customers define and adhere to a savings plan tailored to fit their real saving capabilities, and Apartados (Set Aside), a tool that allows customers to set aside specific amounts in their payroll account through personalized electronic envelopes. And to expedite its transformation process, BBVA Bancomer acquired Openpay, a Mexican startup that has built an cutting-edge physical and electronic payments platform for businesses.
In Peru, BBVA Continental heralded the end of plastic cards with the launch of BBVA Wallet, the smartphone-based electronic wallet that offers a significantly better customer experience. And to improve the user experience of its business customers, BBVA Continental rolled out 'Net Cash,' a mobile app that enables all the features required to run a company using a smartphone, allowing managers to quickly and safely perform transactions without the need for a physical token. Finally, the bank also launched T-Cambio, a currency exchange app. As a result of these technological developments, BBVA Continental was named the most innovative company within Peru's 10 Most Admired Companies, a yearly ranking published by G de Gestión, a local business and finance publication, and PwC.
BBVA Colombia, also upgraded its mobile banking app, implementing a more user-friendly and streamlined design, together with 72 new functionalities, including fingerprint access, the possibility of using the app while offline to withdraw cash and cardless cash advances. The app also allows customers to access detailed information on both the products and services they've already taken out and the bank's current offering (such as access to pre-approved credit limits) from the same screen.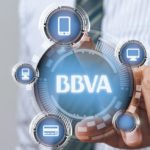 BBVA continued leading the way to innovation in Latin America during 2017, becoming the region's digital bank par excellence.
In Venezuela, BBVA Provincial launched Dinero Rápido (Quick Money), a new mobile app that allows customers and non-customers to use their smartphones to make instant payments to both individuals and companies holding an account in the bank or in any other bank affiliated to this mobile interbank payment service. BBVA Provincial also rolled out Línea de Crédito Instantáneo (Instant Credit Line), featuring an end-to-end loan application process via mobile app, and upgraded its customer experience upgrading the usability of apps in the digital loan origination process. For its permanent innovation, the bank was named best digital bank in Venezuela by Global Finance.
BBVA also set the standard for innovation in Chile, , where it developed the 'On/Off' functionality, which allows customers to temporary block a debit or credit card from any of the different bank channels. It also launched BBVA Pass, which allows customers to authorize transfers via smartphone, by generating a unique key in the BBVA Chile app. In addition, the bank upgraded BBVA Wallet, the only digital wallet in Chile, adding an international exchange functionality that allows customers to redeem loyalty club points to pay for purchases in international online stores. In addition, BBVA Chile is the only bank in the country offering products for non-customers through a mobile app. The bank's digital leadership was recognized by the Commerce Awards, where it was named best bank in the Financial Services and Online Banking category for second consecutive year.
With the rollout of a new features that allow customers to apply for loans using the mobile app, BBVA Francés continues to lead the transformation of digital banking in Argentina. In addition, the bank is still disrupting the country's financial system after enabling a feature that offers quick credit-ratings for non-qualified customers and non-client companies in just five minutes. Also, the bank's 'loyalty' program allows customers, through Francés Go, to access to their virtual wallet or create one by completing a quick three-step registration process, and link their bank cards to shop online.
Lastly, BBVA Paraguay upgraded its customer digital experience offering a new cardless payment option. Customers can now use their smartphones to withdraw money from ATMs and shop in stores. In addition, as an environmentally-conscious company, it has launched digital, environmentally-friendly bank statements, which has had a positive impact in terms of costs and operating processes. Similarly, BBVA Uruguay kick-started its digital transformation process by launching its fixed-term deposit product online and digital application processes for its other products.