"At BBVA, we offer financing to 170,000 non-customer businesses and SMEs for a total of €30 billion thanks to big data"
Cristina de Parias holds an undergraduate degree in Law from Universidad de Sevilla and an MBA from IESE. Since her appointment as Head of Spain in 2014, she's tackled some major challenges, such as the integration of Catalunya Caixa in 2016 and expediting BBVA Spain's digital transformation efforts.
Her career has always been linked to the financial industry, where she started working more than 25 years ago. She joined the BBVA Group in 1998 as head of Personal Banking and Methods of Payment. Between 2004 and 2008 she served as Managing Director of Uno-e.  In 2008 she was appointed Head of Digital Businesses, Innovation and Development and in 2011 she became the first woman to head a Territorial Directorate, the Central one.
Born in Seville, married and mother of four, she travels constantly across Spain. Her associates define her as a thoughtful, very intuitive and approachable person. She loves going on walks, reading, film and travelling with her family. Great Place to Work recognized her as the Best Manager of 2016.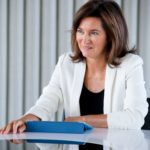 Question: This is your fourth year as Country Manager for BBVA Spain. What would you say have been BBVA's key development milestones over this time?
Answer: Without a doubt, the bank's transformation. BBVA has changed dramatically over the past four years. We're clearly the leaders in transformation. In Spain, BBVA has 4.6 million digital customers and 3.6 million mobile customers, who interact 50 million times every month with the bank, twice as many as they did a year ago. Our app is the best in Europe, according to Forrester, and is earning stellar ratings across the globe.
Our strategies have proven very successful in taking our business to the next level. In 2010, BBVA's market share was 10 percent. Today, it is over 14 percent. This growth has been achieved mainly through organic growth, but in addition with the integration of Unnim and Catalunya Caixa. Also, we've grown in retail segments, such as SMEs, with significant business volumes, consumer finance and insurance, we've sold over half a million Plan EstarSeguro policies since we launched the program in July last year.
BBVA has been leading the transformation of the financial industry in recent years and we're ready to face the challenges that lie ahead.
Q: Once again, BBVA posted solid earnings in Spain. How do you see the business evolving?
A: The results were very good. The bank posted a €793 million profit in the first half of the year, up 19 percent from the same period the previous year. As for revenues, one of the standouts was the good performance in fees and commissions, alongside the drop in costs and the excellent trends in provisions. As for segments, I would like to emphasize the solid commercial dynamics in our retail lines, especially in consumer and SME finance.
We're still making progress in our transformation. Indeed, 42 percent of total sales during the six-month period were digital, thanks to the great work of our network teams, which are the best ambassadors of this change process.
Q: How has this transformation contributed to business in Spain?
A: The transformation is already bearing fruit and the process is unstoppable. In Spain, over 50 percent of our customers are digital. Satisfaction indices are higher among digital than non-digital customers. Digital customers interact more with the bank. Also, drop-off rates among digital customers are 50 percent lower than among non-digital customers. All this encourages us to double down on our commitment to bring more and more value-added services to these channels.
Customers in Spain use our app virtually every day, while they've cut their branch visits to only once per month. In fact, 27 percent of new customers register through digital channels.
Q: Spanish SMEs are also in the midst of a digitization process. How are they facing this new scenario?
 A: Spanish companies are undergoing an important transformation process, but they still have a lot of work to do, especially SMEs. At BBVA, we're firmly committed to helping them in their efforts to be more competitive.
We've developed a management model, based on offering big data technology supported by risk tools, that allows us to offer credit limits to 170,000 non-customer businesses and SMEs, with very short response times, with virtually zero paperwork. In this sense, we have allocated funds totaling about €30 billion for non-customer SMEs, which they can access quickly and easily thanks to this new process.
The combination of this management model and innovative products with a significant competitive transactional offering is driving SME acquisition volume. So far this year, it has increased to 23,000 new companies. Production during the first half of the year stood at over €7 billion, an increase of 23 percent compared to the previous year.
We've also addressed a pressing demand from businesses: the need to speed up the guarantee request and presentation process for commercial transactions. For this purpose, we've digitized the processes for managing these transactions, a pivotal step to increase the efficiency of a traditionally manual banking product.
Additionally, we've developed some basic and easy-to-use digital tools for our customers, such as Click&Pay, which allows SMEs to obtain an instant loan in just one click. So far this year, this product has generated a turnover of over €1 billion. And we have developed a new cyber-insurance policy, which covers policyholders against IT breaches.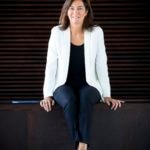 Cristina de Parias, Country Manager BBVA Spain.
Q: What do customers demand from banks today?
A: Users want more DIY functionalities to make decisions; they are better informed and consider that their time is extremely valuable. We're aware of this, and that is why our customers can sign up for 92 percent of BBVA's products through our banking app, which offers access to a range of tools designed to help them make the best financial decisions. Tools such as BBVA Valora, Valora View, Bconomy, and Baby Planner.
Customer experience is very positive. Since launch, BBVA Valora, functionality that helps customers make better informed decisions when considering whether to – or not – buy or rent a property, has already processed three million queries; Valora View has already been downloaded 100,000 times, and Baby Planner has been visited over 700,000 times, 80 percent originating in the mobile app.
For more value-added issues, such as buying a house or planning for retirement, customers look for expert advice.  BBVA has two agile relationship models, which combine the best of the physical and the digital worlds. Our model seamlessly combines technology and personal interaction; anyone can talk to their BBVA advisor, whether face to face, by appointment, or remotely, via chat or telephone.
Q: You've always been linked to the digital world. As managing director of Uno-e and Head of Digital Business, which levers have allowed BBVA to become the digital transformation leader in Spain?
A: BBVA's transformation is not only technological. It has also brought a significant cultural change. We're not the same bank we were a few years ago. We've gone through a comprehensive transformation and we're ready to compete in this new digital scenario.
People with different profiles sit side by side in the bank today, working in cross-disciplinary teams: the digital and financial worlds, working shoulder to shoulder. As a result, a new professional ecosystem has emerged, with a flexible approach to working thanks to agile methodologies, with autonomous teams, capable of defining and executing projects in short periods of time.
All big changes need to be underpinned by values. We have defined ours in a very clear manner: Customer comes first; we think big; and, we work as one team. These three pillars are the guiding principles of the Group's transformation and are part of our daily work here in Spain.
Q: BBVA is already thinking about the next five years. What do the next five years look like for BBVA?
A: In the next five years, BBVA will continue to be wherever the customer needs us.  We've evolved towards a new banking model, where personalization and technology will be key elements to our customer relationships, differentiating us from other banks.
BBVA's ambition is to keep leading the sector's transformation. We're committed to our customers; we work to support people throughout their lives and businesses in their growth process, bringing opportunities to society as a whole.
The banking sector will need to become much more nimble, capable of offering personalized solutions for an increasingly diverse customer base. To overcome challenges, BBVA is committed to talent and diversity, with cross-disciplinary work teams and agile methodologies. Diverse work teams have proven to be more innovative and better at making decisions.
Q: What would you say to the young people who might join BBVA in the future?
A: The financial sector is in the midst of a far-reaching transformation process, and those who join BBVA will be able to experience first-hand the unraveling of an unprecedented era.
Evidently, their educational background will continue to be pivotal. But we're not exclusively looking for stellar academic records. BBVA's recruiting an increasingly diverse pool of talent: mathematicians, data experts, designers, cybersecurity experts, etc.
In such a changing environment, we look for young & innovative mindsets and go-getters, people ready to make the most of the opportunity to be part of a company that is leading the banking industry's digital transformation.