Some companies are now working to incorporate blockchain technology into smartphones. A cell phone that incorporates these characteristics could become the most secure on the market. This would be possible thanks to blockchain's intrinsic security provisions.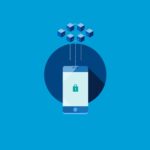 Cell phones with blockchain are on their way to becoming a reality. There are already companies that have discovered how to recognize the possible benefits that integrating this technology into cell phones could entail. These benefits include deploying decentralized applications and using cryptowallets. Companies like HTC and Sirin Labs have already announced the launch of cell phones integrated with blockchain.
The integration of blockchain technology into smartphones could be a solution for people to feel more confident about storing data on their cell phones. An enormous quantity of data is accumulated on these devices, from the most basic data, like a telephone contact list, to more delicate and personal data, like medical history. In addition, wallets have made these cell phones into a digital billfold with access to the owner's bank accounts. This means that ensuring that cell phones are protected is an increasingly essential requirement, not just from physical theft, but also from potential hacking.
Integrating blockchain into cell phones not only favors owners in terms of security, but it could also facilitate the direct integration of cryptowallets. This would eliminate the need to use third-party applications, which are occasionally too complex for the average user. Cryptowallets refer to digital wallets used to store, send and receive digital currencies or cryptocurrencies. The way in which these cryptopurses work is through code management. The user has a key or unique digital code in their cryptowallet that allows them to access the cryptocurrency network in question. From there, they can manage their virtual money.
Thanks to the integration of blockchain into the devices, these keys could be included as standard in all cell phones, strengthening the security and usability of services based on blockchain, such as cryptowallets and ÐApps. HTC Exodus and Finney are the first cell phones expected to yield these benefits:
First commercial models
HTC has introduced its new smartphone: HTC Exodus. According to its website, the vision of the Taiwanese company is to "expand the blockchain ecosystem by creating the world's first phone dedicated to decentralized applications and security". It will not only allow securely storing cryptocurrencies like bitcoin and ether, but also carrying out operations with them from the cell phone itself, which will act like another link of a blockchain network, without needing to install an external app. As a unique feature, the cell phone will have CryptoKitties, the game of buying and selling digital kitties that became popular several months ago, reaching more than 11% of transactions made on the Ethereum platform.
FINNEY
In addition, Sirin Labs is also striving to win this race and has presented its FINNEY project as the first cell phone with blockchain technology on the market. The Swiss-Israeli company promises to be the cybersecurity solution against the increase of cyberattacks. Unlike its competitor, FINNEY stays away from the most popular cryptocurrencies and has adopted its own token from Sirin Labs, the SRN, which will be the only way to be able to make a purchase on a smartphone. The vision of Sirin Labs is to bring the world of cryptocurrencies closer to the masses and to distance people from the idea that it is only for people with vast knowledge on the subject. In the words of the CEO of Sirin, Moshe Hogeg, "there is no way that my mother can understand how to use bitcoin, and my mother is smart". With that statement, Hogeg makes clear that his objective is to simplify access to this technology so that it can succeed with the general public.
For now, few projects have been carried out with this technology; however, it seems that blockchain bodes a promising future. It should come as no surprise that companies continue to research blockchain technology and all services that it can offer in people's everyday lives.