"Collaborating with the innovation ecosystem is pivotal to becoming a digital company"
"You cannot walk the path of innovation alone," said David Puente, Global Head of Client Solutions at BBVA, during the opening speech of South Summit event in Madrid. Puente also emphasized that BBVA's commitment to entrepreneurs is one of the key elements of the bank's strategy to advance its digital transformation.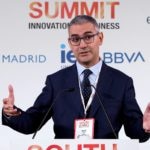 "We're convinced that collaborating with the innovation ecosystem is pivotal to becoming a digital company. Interacting with startups allows us to grow the value to our product and service portfolio; but this is also essential for society, as a source of economic wealth, employment and talent," said BBVA's Head of Client Solutions at South Summit, the entrepreneurship conference that brings together startups, companies, public institutions and investors until October 4th in Madrid.
But South Summit isn't the only initiative that evidences BBVA's commitment to startups and entrepreneurs. Indeed, the bank has rolled out several lines of work "that speak louder than words," as Puente explained during his speech. Thus, BBVA is currently holding this year's edition of its Open Talent 'fintech' competition, which has analyzed the business propositions submitted by the 6,000 companies that have taken part in the event since it was first launched 11 years ago. Also, in Colombia, Mexico and Spain, BBVA has opened its Open Spaces premises, venues where company representatives sit down and meet face to face with local startup talent. The bank is also carrying out a series of initiatives aimed at helping startups to learn first-hand about the specific needs of BBVA's business units.
"Last year alone, of the more than 270 interactions between entrepreneurs and business areas of the bank, 32 pilots emerged; a third of which have had a commercial use for BBVA," said Puente.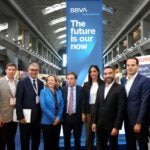 From left to right: María Benjumea, founder of Spain Startup-South Summit; Pedro Muñoz, head of Open Innovation Spain at BBVA; David Puente, Global Head of Client Solutions at BBVA; Nadia Calviño, Spanish Minister of Finance; José Luis Martínez-Almeida, Mayor of Madrid; Begoña Villacís, Vice Mayor of Madrid; Francisco Polo, Secretary of State for Digital Advancement; Ignacio Aguado, Vice President of the Autonomous Community of Madrid; and Miguel Ángel Redondo, Councillor of Economy of the City Council of Madrid.
But BBVA has more entrepreneur programs in place, such as BBVA Momentum, an initiative that, as Puente noted, plays a pivotal societal role by promoting socially responsible projects, or BBVA Microfinance Foundation, which offers microfinancing schemes to entrepreneurs in five countries of Latin America.
Similarly, BBVA's New Digital Businesses area reaches out, connects and partners with hundreds of businesses, including everything from new startups to established innovators, and has also launched its own startups to explore new value propositions within the financial services area.
Thus, BBVA kicked off this year's South Summit, an event where not only it holds the 'ecosystem partner' status, but in which it participates very actively by sponsoring the open innovation stage and hosting a number of presentations, including BBVA Group Executive Chairman Carlos Torres Vila's interview with South Summit founder María Benjumea, on October 4th.