The issue is no longer about using data, but doing it in a responsible manner that also has a positive impact on users' lives.  This was one of the most relevant topics discussed during the second day of BBVA Open Summit, where Derek White, Global Head of Client Solutions at BBVA, stressed that user confidence is the key to success in this new digital playing field.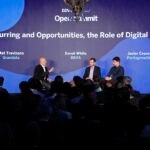 The experts and analysts participating in the BBVA Open Summit 2018 addressed these topics by starting with a common understanding: that the use of data for decision-making companies and organizations – with help of artificial intelligence (AI) - is an unstoppable, positive trend.  However, this trend poses new challenges that need to tackled.
"Data will be the raw material of AI-based economies.  But a handful of companies have a dominant position in terms of data, so it's possible that only these few companies will be able to create value with AI.  And this dominance may lead to an oligopolistic scenario," said Argentina-born entrepreneur Mat Travizano, founder and CEO of GranData and CEO of Wibson, two startups specializing in the digital use of data. This, Travizano stressed, increased the risk of corporate competition becoming slanted in favor of tech giants like Amazon, Google or Facebook.
Javier Creus, founder of the innovation consulting firm Ideas for Change, also expressed concern over this "disparity": "Established companies can gather customer data from about 60 different sources. The new giants have hundreds or thousands of sources."  Derek White, Global Head of Client Solutions at BBVA was even more precise: "In one year, bank customers may visit their bank branch ten times, but they'll make about 300 online contacts. "During this same amount of time, a Facebook user connects 3,000 times and a WeChat [platform created by the Chinese company Tencent with more than one billion users] user connects between 5,000 and 6,000 times."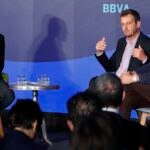 Derek White (BBVA), Mat Travizano (Grandata) and Javier Creus (Pentagrowth) durning BBVA Open Summit.
White emphasized that the challenge lay in making these interactions smarter and smarter so that they can become more relevant to customers. In order to move in this direction, the executive underscored how important it is for all banking services to be available online in do-it-yourself (DIY) mode. In the long run, the goal is to be able to offer bank accounts that can proactively make decisions by themselves to benefit the user.  For White, the key in this regard will be "earning customers' trust".
 "The challenge lay in making these interactions smarter and smarter so that they can become more relevant to customers"
In line with these warnings, Creus stressed that change is underway in terms of how data use is viewed.  Wibson - Travizano's latest project backed by investments from Wayra, the Telefónica Group's business incubator - attempts to use blockchain to monetize data use for those who own the data, the users. BBVA Group Executive Chairman Francisco González also addressed this idea during the awards presentation of the 10th edition of BBVA Open Talent, saying that the way data is used will determine the future of society, and that one of BBVA's principles is that data always belongs to the customer.
Algorithms for the greater good of society
At another roundtable, the discussion focused on algorithm use. Miguel Luengo-Oroz, Chief Data Scientist at Global Pulse - a UN initiative that uses "big data" for humanitarian action and sustainable development – shared several examples to demonstrate how algorithms can be an essential tool to improve the world. Nuria Oliver, Director of Research in Data Science at Vodafone, pointed to the issues that need to be addressed in order to be sure that decisions based on data and algorithms have a positive impact: "Algorithms will no longer just decide what we watch on Netflix, but also what medical treatment we receive or if a university accepts our children or not."  That's why it's important to be very careful to avoid biases, disparities and opacity.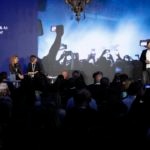 Nuria Oliver (Vodafone), Elena Alfaro (BBVA) and Miguel Luengo-Oroz (Nacioned Unidas), during BBVA Open Summit.
This will pose a major challenge for companies, impacting everything from their strategic vision to how they market their products and services every day. As Head of Data and Open Innovation at BBVA, Elena Alfaro, said, "It's no longer about launching a product or service on the market and seeing how it does. Now with artificial intelligence, our products and services can learn from the environment and adapt accordingly."
This new landscape could concern, or even distress company executives.  Creus called for keeping an open mind: "Optimists are the first to see that the standard is changing and once the change occurs, it's a waste of time to try to stop it.  At that point you have to forget about labels and think about new businesses and new combinations" of your strengths, he maintained.
Open platforms
The creation of digital business platforms is one of the new pathways that is gaining ground, as was discussed in another panel. And this is where BBVA stands out, explained Ian Ormerod, BBVA's Head of New Digital Businesses. He outlined how BBVA had become the first bank to offer Banking as a Service in the US, on the back of its Open API Programme- the BBVA Open Platform. BBVA already rolled out this initiative in Spain, through BBVA API Market, which allows third-party providers to implement financial solutions in a very simple manner.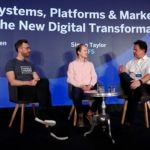 Juho Makkonen (Sharetribe), Simon Taylor (11:FS) and Ian Ormerod (BBVA) during BBVA Open Summit.
"We are at a turning point," he said, "and thanks to these platforms we can expand our value proposition.  We offer all key banking capacities and now we can also do much more – offer a much more comprehensive variety of products and services, directly or through third parties," he added.