Francisco González: "Data will define the future of the world"
BBVA Group Executive Chairman Francisco González said to participants in the BBVA Open Summit in Madrid that "data will define the future of the world." Addressing an audience of hundreds of entrepreneurs, BBVA chairman added that for BBVA, data belongs to the customer.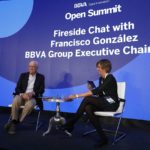 Francisco González also announced the winners of the 10th edition of BBVA Open Talent - the world's biggest fintech event. He presented the awards to Sedicii, which won the Fintech for Future category; Dunforce in the Fintech for Business category; and ChargeAfter, in the Fintech for People category.
BBVA Open Summit is an event for leading actors in the fintech sector - from startups, influencers and large corporations to investors and professionals from across BBVA.
In a discussion with BBVA's Global Head of Open Innovation Elena Alfaro, the chairman stated that a company starting from the premise that data belongs to the customer means that all of its business must deliver on this principle. Turning to BBVA, specifically, he added, "There a lot of things we can for customers to improve their quality of life and help them make better decisions, but all of this must be done with consent."
Francisco González also discussed the important role entrepreneurs play by pushing boundaries and being catalysts for change in society. When asked what advice he would offer to the dozens of startups in the audience, he stressed the importance of anticipation. He defined this as knowing where you want your business to go, and obtaining the resources you need to get there.
In his view, other critical elements for a successful project include having the time to make mistakes and learn from them; ensuring you secure the best talent, and always abiding by firm principles. Finally, "once you have a competitive idea, make it part of a good strategy," he added.
The chairman also gave some insight into the bank's strategy for the future.
"Things are changing so quickly. We have to focus on the long term outlook." He compared BBVA to a large ship in which you have to start turning long before you see the coast.
He then discussed ​open innovation with the ecosystem of entrepreneurs. Francisco González emphasized that connecting with those outside of the bank is critical, as it provides the vision, ideas and means to implement the bank's strategy of executing - all factors that could be essential in the future, he noted.
BBVA Open Talent Winners
The second edition BBVA Open Summit is special because it also marks a decade of BBVA Open Talent competition. Over the past decade more than 6,000 startups from more than 80 countries have participated.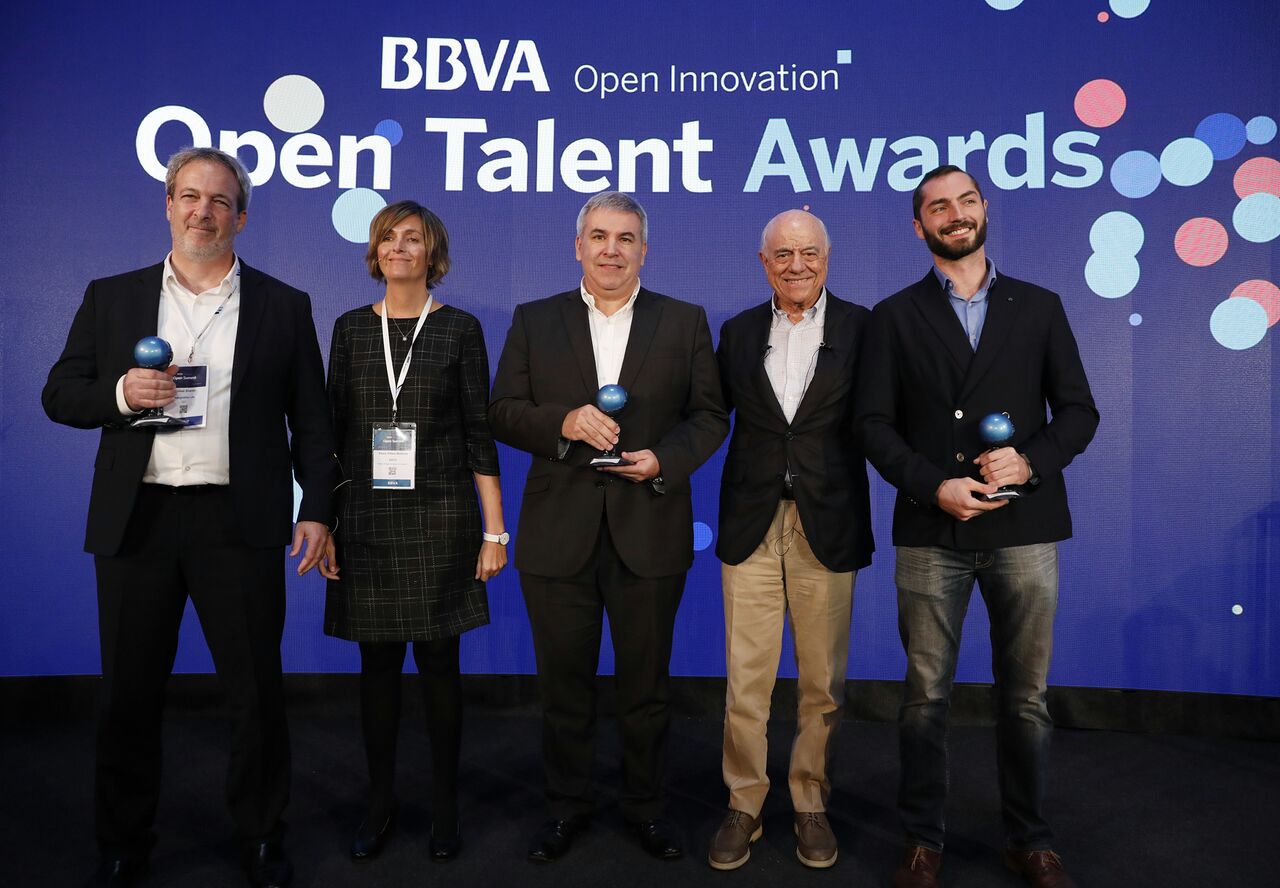 From left to right: Meidad Sharon (chargeAfter); Elena Alfaro, Global Head of Open Innovation; Rob Leslie (Sedicii); Francisco González, BBVA Group Executive Chairman and Joachim Carpentier-lépillet (Dunforce).
BBVA's Group Executive Chairman presented awards to the startups with the greatest potential to transform financial services: Sedicii, Dunforce and ChargeAfter.
The Irish startup Sedicii won the Fintech for Future Award thanks to its online identity verification system, which allows companies to check data from trusted sources (governments, banks, telecom companies, utilities), in real time, ensuring that businesses can react quickly to new information. The Fintech for Business Award went to the Spanish Dunforce, which developed a software that predicts when an invoice will be paid and automates its collection. And the Israel-based startup ChargeAfter won the Fintech for People Award. Its solution enables merchants to offer their consumers instant, seamless financing from multiple lenders upon checkout.
Each winner will receive a €50,000 prize and have the opportunity to take part in an immersion week with BBVA. There they will learn how to partner with a global bank,  potentially becoming a customer, and finding solutions for the specific challenges facing their business and benefit from the experience of the bank and its partners.