The digital age means the banks that survive will have to do more
Can Big Tech take the place of banks in the financial services sector? According to Francisco González in his op-ed article in today's edition of Financial Times, while the Big Tech's threat is widely known, digitization opportunities for some banking institutions are less evident. BBVA Group Executive Chairman is confident that "we have what it takes to redesign banking and to bring about the next stage of this industry's evolution."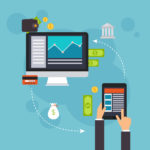 Francisco González thinks that Big Tech's threat to banking is crystallizing into a reality, especially in China, where Tencent or Ant Financial are spearheading a new league of competitors. There are also some fintechs with valuations that are very different to the valuations of consolidated banks.
But BBVA has been transforming itself to meet the challenges of the digital age for more than a decade. "Along the way, we have realized that some of banking's core strengths — security, privacy and compliance — are not easily replicated and are increasingly significant, as we all learned from Facebook's tribulations," he says in the FT article. "At the same time, we have learnt how to use technology to improve customer experience," he adds.
Regarding the use of data, BBVA Executive Chairman explains that the need to protect all forms of data against everything from cyberterrorism to customer exploitation has never been more acute. "We are starting to understand that data is an essential input with an impact on competition, and I believe this will lead to a crackdown on monopolistic behaviors by the big search and social media groups." For that reason, he continues, "a new regulatory model is needed, one that understands the complexities of data and capable of balancing privacy, security and competition across sectors." In his opinion, "consumers will see the merit in having their data assets - whether financial or not - safeguarded within a trusted environment, but they will also benefit from a competitive and transparent market."
"We are girding for the battle ahead: (in the digital age) there is room for a reduced number of providers"
And this why "banks need to build on their core strengths and find a way to evolve so that, ultimately, they become more relevant and involved in people's lives."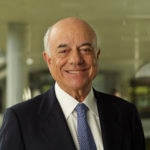 BBVA Group Executive Chairman Francisco González.
On the other hand, "Big Tech is extremely successful at building seamless ecosystems: networks of interconnected products and services, and nodes that share data," Francisco González says in the FT. "They create huge volumes of interactions every year", while "banking creates fewer interactions, but typically each one is of higher value". Making a transaction is "worth" more than liking a friend's photo or searching online.
BBVA's Executive Chairman said that in his view "some banks that have invested in platforms and digital services will be able to build their own ecosystems," and the path to success for financial institutions is clear: "With customer consent, banks have access to valuable data that can be used to help clients make better, more informed decisions about their finances." This, in turn, will encourage them to take on other services from the bank or a partner. Thus banks must take on a new role as trusted advisers, which will only work if they are capable of tailoring offerings with the best suitable products and services.
"This is what we call the circle of trust argument: if customers are willing to confide their data in us, we can use it to suggest money saving alternative investments. The exchange builds trust, leading to more data sharing, better recommendations and data-driven sales of products and services," he says. "At BBVA the more we adapt to the digital age, the more clearly we see our opportunities."
Francisco González concludes, "we have been preparing for more than a decade, making many mistakes but also learning from them. We are girding for the battle ahead: there is room for a reduced number of providers."
BBVA Group Executive Chairman is confident that "we have what it takes to redesign banking and to bring about the next stage of this industry's evolution."