Dissecting digital payments: how they are evolving around the world
Mobile payments in Europe, QR codes in Latin America, and super apps in Asia: These are some of the trends that are getting the most traction across the globe in the digital payments arena. We review those initiatives that are making the biggest impact in each region.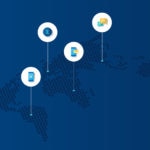 Having become accustomed to the speed of digital services, society at large has become equally demanding when it comes to making payments. People want their financial transactions to occur conveniently, quickly, and in step with technological innovation. This has recently led banks and financial tech companies alike to deploy innovative payment solutions, which rely on mobile devices as a key piece of the offering.
According to a recent report from Oliver Wyman, a quarter of all credit and debit card payments are now digital. Nevertheless, digital payment trends differ depending on each region. Below we describe the payment initiatives with the most uptake in those regions that have seen the greatest degree of payment disruption in recent years.
Europe: the smartphone pays
The old continent has placed its bets on interoperability in the digital payment space. The recent ratification and implementation of the PSD2 payment services law means that easy-to-use, efficient, and secure payment methods are available for the general public across the 27 European Union member countries plus the U.K., Iceland, Liechtenstein, Norway, Monaco, San Marino, and Switzerland. These initiatives are occurring in a region where digital and mobile banking penetration is a cold hard fact: according to a report by Mastercard, 85 percent of the region's population claims to have used mobile banking. Convenience and speed are the two major advantages.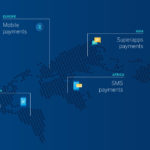 Innovations in Europe come hand-in-hand with new payment methods such as Spain's Bizum, which allows money transfers between one mobile phone number and another and the introduction of digital wallets on the devices. "The rapid conversion from physical to digital payments — and its significant penetration — has made it possible to 'virtualize' physical credit and debit cards and enables paying in a variety of environments, explains Javier Bartolomé, director of technology and innovation at IMSolutions and payment methods spokesperson at the Spanish Association of Fintech and Insurtech (AEFI). The also-impressive penetration rate for solutions like Google Pay and Samsung Pay provides proof-positive that these initiatives have been warmly received. In BBVA's case, the bank launched its first global digital product, BBVA Wallet, in December 2013. Since 2019, this functionality has been integrated into the BBVA app, which customers can use to make direct payments and conduct transactions, quickly, conveniently, and easily.
In Peru and Mexico, BBVA facilitates QR code payments with its banking application
Europe is also open to the interplay between banking and fintech players, while giving legs to open banking, where BBVA has been a leading player in the region with its BBVA API_Market. Still, for the time being, we do not anticipate the emergence of a superapp in the region, as has occurred in China. "We need to learn to collaborate on the creation of multi-activity platforms where the customer is at the core of everything and where financial and insurance services become almost invisible, everyday services," the AEFI propounds.
The future of digital payments in Europe looks to biometrics. The fintech association asserts that the reality in the United States and Asia will shortly be true in Europe as well. Meanwhile, banks like BBVA already allow accounts to be opened using a selfie or video conference call.
Latin America: QR code payments
"The prevalence of traditional payment mechanisms represents the main barrier to the adoption of mobile payment or wallet applications," the consulting firm, Indra, states about Latin America in its report, Payment Method Trends in 2018. Cash and card payments are still the preferred payment method for most of the population. In countries like Colombia, there has been an explosion in the number of cards available in recent years, reaching 46 million, according to Asobancaria data.
Still, digital payment methods are making headway. Andrés Ramírez, head of digital transformation and financial inclusion at Asobancaria, highlights two technologies: QR codes and near field communication. "These are the two most important, short term trends we see gaining traction in Colombia, and they are already entrenched in other parts of the region," he explains.
Being able to use a QR code from a smartphone with a card sticker or wearable to complete a transaction represents a leap ahead for payment methods in the region. The use of these codes is a reality in establishments that accept applications like "Mercado Pago" (Payment Market), the most popular in the region, or Rappipay, a super app initiative spearheaded by Rappi, the  first Colombian unicorn. In Peru, BBVA facilitates QR code payments with functionality integrated in its Lukita application, and in Mexico with its banking application powered by the Mexican technology, CoDi. Openpay, the startup that BBVA adquired in 2016, also offers a wide range of digital e-commerce transactions for corporate and SME clients in Mexico. In addition, it has become the first bank to provide a banking product over a third-party application: Uber. Under this agreement between the bank and the car-hailing application, Uber's driver and delivery partners in Mexico can create a digital banking account tied to the international debit card, Tarjeta Socio Conductor (Driver Partner Card), which they can use to receive payments due in a matter of minutes.
Banking's digital transformation, including payment methods, represents a significant opportunity for the region, which registers a low level of financial inclusion: only 54.4 percent of the population over the age of 15 counts itself among the banked population, according to 2018 World Bank data. This is below the global average, which stands at 68.5 percent.  One of the initiatives that works to increase banking penetration and reduce inequality in the region is what is called in the region "digital correspondent banks," banking services that reach where the physical banking infrastructure does not. "Their role is to give banking coverage to those areas where banks lack the physical infrastructure and to enable financial transactions from mobile devices," Ramírez explains. This approach, which is already in force in other countries in the region, will be established in Colombia through legislation to be passed in the coming months.
Asobancaria also highlights that SMS is a widely used tool for payments, opening accounts, and other transactions in these rural areas.
Asia: super app payments
Asia has set the pace for payment innovation. Most notably in China, huge leaps in digital payment technologies have been made. China has revolutionized the way transactions are conducted, thanks to the emergence and warm reception of players like WeChat Pay (Tencent) and Alipay (Alibaba). These smartphone super apps, bring together various services like text messaging, online payments, and taxi-hailing functionality. Additionally, they enable purchasing and money transfers using simple chat functionality. And, it has been more than warmly received. According to data from the consultancy firm, iResearch, in the third quarter of 2019 commercial transactions occurring over these apps reached up to 55 trillion yuan (4.9 billion dollars).
These services are seeing slower uptake outside of China, although banks like BBVA have established alliances with them. Since 2017, BBVA customers can pay with Alipay and the bank has become the first WeChat Pay partner in Spain. Its customers, primarily Chinese citizens who are visiting the country, only have to open the app, download the QR code that identifies them, and touch their mobile device to the payment terminal.
In the third quarter of 2019 commercial transactions occurring over these apps reached up to 55 trillion yuan (4.9 billion dollars)
China is also strongly committed to biometric recognition payments. Alipay is the leader of the initiative, enabling facial recognition payments in restaurants and fast food establishments.  Its technology is called Smile-to-pay and is easy to use. The customer has to register and allow Alipay to scan his or her face. The customer can forget about cards and even mobile devices, once they are ready to pay they simply have to accept payment at a terminal and a camera will recognize their face in order to approve the transaction.
Africa: SMS payments
Africa continues to be one of the worlds most unbanked regions and where the financial infrastructure is most lacking. Having physical cash on hand through an ATM or finding a payment terminal for a credit card is not always easy. In sub-saharan Africa, in countries like Kenya, necessity has become the mother of invention. The spreading reach of mobile telecommunications — with or without Internet access — represented a leapfrog solution for payments. Today, 21 percent of people across Africa use their mobile devices to make payments and/or receive money, according to data gathered from The World Bank and the Bill and Melinda Gates Foundation.
A few years ago, Kenya became the testbed for digital finance on the continent. It wasn't a question of innovations like biometric authentication or artificial intelligence. A much less complicated solution emerged, based on a simple SMS. Thus M-Pesa, an e-money institution that connects users so they can conduct transactions using an SMS and password, was conceived and established. Just as payments between a customer and merchant can be made using a text message, orders can be made between merchants and distributors.