Computer programs that automate processes are already common in banks. They cut costs, improve efficiency, but what is more important is that when combined with artificial intelligence, they open the door to greater advances.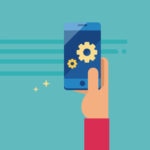 The use of the acronym RPA is gaining traction in the fintech but its goes far beyond what is fashionable.  These five questions and answers sum up its importance.
What is it?
The letters RPA stand for Robotic Process Automation.  It uses software in bots to carry out routine company tasks such as processing forms, data entry etc.  RPA can greatly enhance its potential using artificial intelligence (AI), but not all RPAs use this technology.  It is a first step, a door to greater disruption.
What is it used for exactly?
Obviously, the main function of RPAs is to automate processes with the accompanying time-saving. But these bots also improve the quality of the data (eliminating operational risks), as well as the ability to deliver on time and control costs.
What is the economic impact of RPA software?
According to figures from the consultancy Juniper Research, RPA software for banks and related services will have an economic impact of close to $900 million dollars in 2022, compared with $214 million in 2018. The figures themselves are based on estimated savings from its use of some 40 percent.
The consultancy bases this upbeat outlook on what it believes is a "perfect storm" for the business. The very interest sparked by this software coincides with the rise in the use of chatbots and artificial intelligence along with banks own digital transformation strategies.  The impact of regulation and the desire to reduce outsourcing will be the basic drivers of its growth.
Are there RPA unicorns?
The sector has its own unicorns, that is, non-listed companies valued at over $1 billion dollars. At the start of the summer the Californian company Automation Anywhere joined this vaunted echelon after a financing round worth $250 million in which Goldman Sachs and others took part. It is now valued at $1.8 billion dollars.
UiPath achieved unicorn status last winter and is valued at $1.1 billion dollars.  Juniper also points to the potential of five companies: IP Soft, Antworks, Workfusion, Wipro  and Pegasystems. The last two are listed.
How far can RPA software go?
They key to RPA lies in its combination with artificial intelligence, but as Luis González Gugel, a partner who heads up robotics at Deloitte, says mixing "technological complexity with organizational complexity" could be a mistake. That is why he recommends companies use RPA to lay down the foundations before introducing more costly and complex technologies. In that way he says "they will be set up for exponential growth when the technology breaks through". He predicts the real takeoff of intelligent RPA within two to three years.
Using "affordable and simple technology", the Deloitte expert sees a future in which robots do not need human help to learn and interpret even unstructured information. For Steffen Sorrell, a Juniper consultant and author of the study Banking Automation & Roboadvisors: Cost Analyses, Impacts & Opportunities 2018-2022: "Incumbents who are unable to harness, and connect data between chatbots, banking API use and AI-driven RPA software will soon lose any competitive edge."