Innovative companies Paykey and Musoni win European final of BBVA Open Talent 2016
After winning the Wired Money special award and the Financial Inclusion category respectively, the Israeli company Paykey and the Dutch firm Musoni were the grand winners of BBVA Open Talent Europe 2016.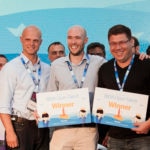 London hosted the closely fought final where the winners faced 17 rival entrepreneurs. Paykey and Musoni joined Cambridge Blockchain and Precognitive, the winners of the USA and Rest of the World final. The last winners will be revealed at the Latin American final in Mexico on September 19 and 20.
The European winners are innovative startups that design effective solutions for the financial sector. PayKey, a system for secure payments using the main social media and its own keypad that can be downloaded to cell phones, won the Wired Money award in June. Out of 12 startups, the jury recognized its disruptive capacity.
Inclusion through technology
Winner of the Financial Inclusion category, Musoni is a startup with presence in 12 countries and 275,000 customers. The company supports people with poor access to the banking system, helping banking institutions optimize their microfinance services. To do so, it uses the cloud to reduce costs. Additionally, its system allows for the integration with mobile cash transfer providers – this feature is common in some of the less bankarized countries, especially in rural areas.
These awards are a step further in BBVA's commitment to support innovative proposals that have a positive impact on the financial sector. "The European winners of BBVA Open Talent 2016 have the potential to become the protagonists of a new era in financial services," said the head of Customer Solutions at BBVA, Derek White, during the award ceremony.
As all other winners, these two companies will receive 30,000 euros and join the two-week immersion program with BBVA executives in Madrid and Mexico City.