An introduction to the Momentum companies that are coming up with innovative solutions to everyday challenges
Momentum, BBVA's program in support of social entrepreneurship, is today a benchmark in the sector. Since its first edition in 2011, it has driven the expansion process of 56 companies with high social impact in Spain, 30 in Mexico and six in Peru. Many of them have succeeded in making a niche for themselves in the market thanks to their pioneering products or new approaches to business.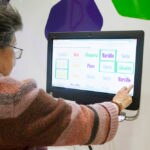 "That's impossible", "Everything's already been done", "You won't be able to do that here"... The Momentum entrepreneurs are used to hearing these phrases when they pitch their projects. It's only natural when a person sets out to launch a revolutionary wheelchair, a center for senior citizens like nothing you've ever seen before, or a wine cellar concealed somewhere practically inaccessible. Since its beginnings in 2011 Momentum has shown its understanding of the potential of a series of projects that only needed a tiny push to become bigger. Where others saw something as impossible, BBVA saw impact and growth.
Disability from other angles
This is the case of Batec Mobility, a Catalan company that entered Momentum in 2012 with a very clear mission: to radically improve the mobility of disabled people with their handbikes. These wheelchairs are even suitable for users with very severe injuries such as quadriplegics, and offer various hybrid, manual and electric models in which aesthetics are a fundamental element. Its founder, Pau Bach, had a clear idea of where they were heading: "We wanted Batec to be available all over the world. For the first time we're finding we can now decide how far we want to go. We feel we're the ones in control". Thanks to Momentum, this company has now taken part in two funding rounds –in the first it received 450,000 euros to develop its internationalization, and in the second, 150,000 euros. Their handbikes are revolutionizing the sector, and what's more important, they're radically improving the lives of their users, taking them to places that before they could only imagine.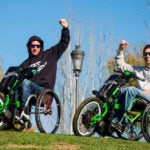 Another problem facing people with disability is unemployment. Specialisterne España has taken a positive approach to this challenge by exploiting the special capacity of people with autistic spectrum disorders (ASD) to cover jobs in technology companies. Its users have qualities such as attention to detail, an extraordinary capacity for concentration and zero tolerance of error, which makes them unique in the market. The company is responsible for training them, finding them a job and above all, giving them the confidence they need to enter a world which may sometimes seem incomprehensible to them. Their aim is to expand throughout Latin America and obtain one million jobs worldwide for people with ASD.
A different way of life
We live in a society in which it is difficult to integrate older people. Many of them suffer from loneliness, lack of resources and understanding of their problems. The solutions can be found in something as basic as empathy, listening and research. This is how some of the Momentum companies have managed to encourage active aging through physical exercise (Siel Bleu) or the treatment of cognitive impairment (Cognitiva Unidad de Memoria).
However, there is still a lack of alternative housing options for the elderly in Spain. The Galician company Saraiva Senior joined Momentum in 2013 to revolutionize the sector with accommodation units that were like genuine homes. In 2016 they opened a center in Pontevedra, where people live independently, surrounded by their own possessions and furniture, as though they had never left their homes. This project ensures they are well taken care of, comfortable, and –more importantly– are guaranteed the freedom they have enjoyed their whole lives.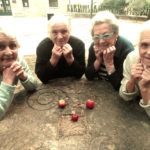 The same old products?
Concepto Industrial's star products are its multifunctional magnetic glass whiteboards. The name may sound complicated, but their application, as is often the case with innovative products, is simple. The idea is to display what was previously offered by several items, on the same surface. In the hands of this Galician company, normal glass is transformed into a screen for projecting images, a whiteboard, a way of illuminating spaces by reflecting light, a magnetic panel... Its forms and functions are so numerous that they can be seen in fashion stores, offices, and in schools and colleges. Maybe before long we'll all have one in our homes.
While Concepto Industrial uses glass in a revolutionary way, Ecodome has found an exceptional use for earth. Their environmentally-friendly homes made out of this material resemble houses by the Catalan architect Gaudí; they've demonstrated their sustainability as they can save up to 20% of CO2 emissions in the environment. It's incredible to think that living in a house made from something so basic could be so comfortable, healthy and economical, and yet Ecodome proves it in each project.
On the other side of the ocean, the Mexican company Échale a tu casa has also come up with a sustainable solution to the housing problem. Its mission consists of helping needy families to build their own homes with environmentally-friendly materials, and for this home to change and adapt to their needs. Another Mexican company, Casa para Ensamblar, offers economic and sustainable homes for families at risk of exclusion that are made from panels and can be assembled in three or four days. Both companies are managing to provide not only a home for those who need it most, but also dignity for these people with simple but innovative solutions.
BajoelAgua Factory has also given new life to something traditional. This Basque company produces a unique wine to fund its project for the dissemination of the marine ecosystem. Its wines are not aged in wineries inside wooden casks. To see their bottles you have to dive down to the bottom of Plentzia Bay in Bilbao, the site of their artificial reef that doubles as an underwater wine cellar and a refuge for species that are repopulating the area thanks to this initiative. The benefits of this wine-making project include highlighting marine treasures and promoting activities related to the sea.
These companies are demonstrating how a successful business can be run without losing sight of the human factor; by offering new solutions for people who need them and giving new life to everyday products. Momentum will continue believing in these entrepreneurs and supporting them in their growth.
They'll never be told "That's impossible".