The BBVA Innovation Center was the venue for 'Exporting to Latam', an informal event organized by Emprendedores magazine which was attended by Nicolás Mouze, marketing and sales manager of DHL Express, and Rodrigo Quirós, DHL sales manager for Latin America. They went over the details of foreign trade and stressed that the time is right for Spanish SMEs to establish trade links with Latin America. The event was attended by top executives of companies such as Grupo Albión, ONO and Pacadar, among others. The main issues addressed at the meeting are detailed below by Nicolás Mouze and Rodrigo Quirós.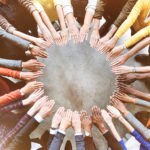 Setting out on the adventure of exporting is a challenge for any company and for the people who drive each project, the entrepreneurs, who make the dream of succeeding in any market a reality, believing in their idea through an effective business plan. To support this drive, DHL acts as a facilitator of the export process for SMEs that decide to expand their business to other markets with potential, such as Latin America, given the saturation of products and services and increased competition in Europe. Our experience in each market and the global network of experts in foreign trade and customs management help SMEs take their products and services to their destination at the right time, becoming the best letter of introduction for new customers. Our goal is to act transparently with the customs authorities in each country, building trust in the dispatches of each customer to expedite the entire process.
In order to guarantee the success of the adventure of exporting to Latin America, some key factors need to be taken into account, such as the degree of acceptance of the product or service in that market, how long it is going to take to position it (time to market) so it is competitive, and logistical aspects, which should consider the destination countries, the types of products and their volume, the number of products and the degree of protection afforded to domestic trade, which is reflected in its openness through its tariffs and the required documentation. This market continues to be the main investment destination for Spanish companies, while the cultural links and a common language, in addition to the expansion of the middle classes thanks to education and access to the Internet, provide a good opportunity to meet new needs.
DHL's success as a facilitator of foreign trade contributes to the success of our customers, who become established in each market, taking into account the special features of each one, through the customized advice we provide in the early stages of entering a market and throughout the expansion into new ones, thanks to our global platform in 220 countries. This enables us to choose the best delivery option in each case and reduce risk. Our goal is to continue to support the success stories of SMEs by managing the delivery processes and assisting in decision-making. Our advantage is our knowledge of each market and of current legislation and trade treaties, and the fact that we have our own network. We want to share the success stories of our Spanish customers, like Sabororeaté y Café, which has managed to create a niche for itself in Colombia and continues to grow thanks to its good work, or Cetil, that manufactures gas pumps and will soon start exporting to Chile.
Latin America continues to offer good prospects for Spanish SMEs in countries such as Panama, Costa Rica, Colombia, Peru, Chile and Uruguay and in sectors like fashion, food, technology and cellphone apps, where there is room for growth. In addition, the perception of Spanish products in the region is very good. It is a matter of making the most of this positive predisposition and identifying the most appropriate channel for delivering the product or service as quickly as possible so this effort is effective. To this end we offer our powerful simulation tool, TAS (Trade Automation System), which is available on http://www.exportacondhl.com/internacionalizar-su-negocio/importacion , and enables entrepreneurs to calculate the costs of taking their product to each market, although we always recommend our personal advice to provide guidance on how to do so with the greatest savings and delivery reliability.
To share experiences in Latin America with other entrepreneurs, visit: http://connectamericas.com/es/, which has been set up in partnership with Google and VISA.
We believe in SMEs and this is why we provide advice to 150,000 customers in Spain, of which 95% are SMEs, which enables us to understand their needs and provide the best solutions. Their success is our success.