A browse through some the personal finance management (PFM) programs now on the market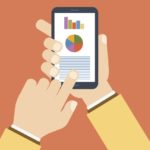 There are mobile applications to support users in practically every aspect of life; in leisure, health and more. So it is no surprise that such technology has been used to support personal finance, by migrating accounts and investments to mobile devices. Personal finance management (PFM) apps give clients control over all accounts and positions via a single website or application. Below is a quick tour of just a few of them:
Mint
Mint compiles a user's bank accounts into a single platform. The platform displays all of their money and how it is moved. Mint is capable of synchronizing all bank accounts, credit cards and debit cards. It gives users control over credit card movements, expenditure, cash, income and total assets over time. The application features reminders to pay outstanding bills and tips on how best to save. A group of consultants is also on hand to support users and help them achieve their financial goals, such as paying off debts, creating budgets, making purchases, etc. It can also automatically sort items into categories. For example, when you make a payment at a restaurant the expense is automatically classified under food. The aggregate account data can be displayed in graphs and tables to provide a clearer view of a user's financial situation. This is one of the pioneering applications in the field, as well as one of the most downloaded. It is free and works with iOS and Android.
Yodlee
In August the financial solutions firm Envestnet bought the technology and financial company Yodlee for 590 million dollars. Yodlee, founded in 1999 and the leading company in the United States, is able to extract and classify account transactions and work with more than 12,000 different sources. The cloud platform allows users to view their credit card movements, bank accounts and investments via a single site. The company offers its services to more than 850 companies, among them 11 of the 20 largest banks in the United States and hundreds of Internet services companies. Its technology has been at the hub of the leading personal finance management (PFM) platforms for a long time.
MONEYWIZ
Payment application. This application allows users to configure accounts and set up reminders to pay bills. It is available for multiple platforms and devices. Income and expenses can be managed via a cloud system, SYNCbits, which supports local data storage to allow access even offline. Data is synchronized instantly, automatically and securely. It supports the import of CSV, QIF, OFX, QFX and MT940 files. The application can also be connected to bank accounts or PayPal to ensure that all transaction data is automatically imported to the personal manager. Transfers cannot be made via the application, meaning users cannot do anything with their money except view and evaluate movements. It does support operations in any currency, with a simultaneous conversion tool for all items.
Fintonic
Provides full information on all of a user's bank accounts in a single display. Income and expenses can be organized and alerts set up for movements, overdrafts or fee charges. Fintonic can compare a user's expenses and is able to provide useful information, such as informing you of an insurance policy that is cheaper than the one you just paid for. It aggregates and displays data to anticipate costs, thus helping to control household finances.