Propel Venture Partners lead Series A funding into new 'penguin-powered' AI advisor
BBVA-backed investment fund to support growth of advisory service Charlie, aimed at less financially astute U.S. consumers.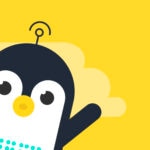 Charlie, a text-based AI chatbot helping people who don't speak finance worry less about money, today announced the company has secured a $9 million Series A Round led by BBVA's Propel Venture Partners.
Charlie - portrayed as a friendly AI 'penguin' - is dedicated to finding new ways for US consumers to make better financial decisions, including identifying more ways to save, avoid burdensome recurring fees and penalties, and break the paycheck to paycheck cycle.
Designed to interact with people via SMS text or Facebook Messenger, Charlie is now used by nearly 250,000 mostly millennials - those who reached adulthood around the turn of the 21st century - US consumer since its launch in 2016.
This latest seed-investment round is aimed at supporting massive growth in the service, with the ambition to take it up to between 5 - 10 million user in the U.S. alone, as well as funding the launch of new features and services.
The company also plans to use the investment to grow its team and add leading financial partners to assist in automating more aspects of a people's everyday financial life.
"Charlie is there to always look out for user's spending and goals, so they can focus on the more important things in life"
"Our vision at Charlie has always been to build an AI that brings empathy, simplicity, and financial empowerment to anyone looking for help with their money," said Ilian Georgiev, CEO and co-founder of Charlie. "With this capital, we're looking forward to developing new ways to help even more Americans form healthy financial habits. We want our users to know that Charlie is there to always look out for their spending and goals, so they can focus on the more important things in life."
Exchanging over 20 million messages and releasing users from the accumulative debt burden of more than $50 million, Charlie was built by an innovative team that combines gaming with financial and technical chops - all with training in cognitive science.
For BBVA and Propel, Charlie is a great example of a business supporting its core ethos, of technology as an enabler to support better decision making and bringing the age of opportunity to everyone. Charlie, deploys the habit-forming tricks behind top-grossing gaming apps to help people change money behavior.
Are you getting the best deals out there? Charlie makes sure you do.
Approachable and intelligent
"The go-to form of getting financial advice with charts and graphs is not providing the actionable and simple advice that the average American needs today to build their savings, eliminate debt, and drive positive financial behavioral changes," said Ryan Gilbert, Partner at Propel Venture Partners. "In a crowded space, we believe that Charlie is delivering what's been missing among existing financial solutions: trustworthiness, approachability, and super intelligence. We're excited to be a part of their growth as they continue to bring empathy and simplicity to financial empowerment."
The majority of Charlie users are the everyday U.S. consumers:
Eighty percent are female
The average age is 27
Houston is the largest metropolitan area and Utah has the highest penetration of users
McDonald's is the number one retailer where users spend most frequently
"Affluent coastal men have more than enough tools to help them optimize their finances," said Stephanie Palmeri, Partner at Uncork Capital, an investor in Charlie's previous Seed rounds. "We saw Charlie's potential to really change the lives of young people, in particular young women, by helping protect them from fees, find savings and stress less about money in general."