The do's and don'ts of promoting a startup and securing finance
Acceleration programmes, like Open Innovation from BBVA helping startups from the fintech ecosystem, are an opportunity to offer tailored support that helps entrepreneurs to refine their model, boost their growth and access investment. In the case of the BBVA programme, the project is bringing to a close nine months of workshops, mentoring and support. For the bank and entrepreneurs, the initiative has provided an opportunity to learn together.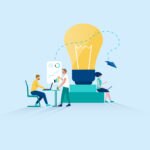 To accelerate a moving object, a force must be applied to it. Its speed will then begin to increase. Where a startup is concerned, getting the right boost not only makes it move faster, but its path will be clearer and it will be able to aim much higher.
BBVA has acted as that force for emerging fintech companies that have taken part in the new BBVA Open Innovation Acceleration Programme. The aim of this initiative is to provide startups with tailored help, advice and training free of charge.
The cherry on the cake - getting finance
On 9 July, after months of hard work, it was time for this acceleration programme's grand finale in the form of the Global Fintech Investors Day, an event at which startups gave presentations to investors from Spain and the United States, laying everything they had learned and improved on the table.
It is also a perfect ending for BBVA, which gets to see how much its commitment to open innovation and collaboration has been valued. As Carlos López-Moctezuma, head of New Business Models, Open Banking and Innovation, pointed out during the event, for BBVA it's important to have this connection with the entrepreneurial world: "We can't create everything from within the bank, we need to collaborate with the fintech ecosystem and we are having great experiences with this kind of initiative".
At the event, the participating startups' pitches were interspersed with rounds of questions from groups of investors. The aim was for these investors to then contact those companies whose ideas has appealed to them through the bank. The startups presenting their proposals included Lendmarket, Suscrip, WayApp Pay, Micappital, Billage, Invisible Collector, WhenWhyHow and Loonfy.
For nine months, these chosen startups have been able to access experts at the bank for advice and support on a wide range of subjects. Throughout the duration of this project, BBVA has committed to driving open innovation, strengthening the fintech ecosystem and reinforcing the bank's strategic priorities hand in hand with emerging companies. An objective that, as Ignacio Villoch, Open Innovation Senior Ecosystem Builder of BBVA, recalls, is key to making progress in the transformation of the financial sector: "If you want to travel fast, travel alone; if you want to go far, travel with others."
Methodical and inspiring support
"From zero to hero". With this phrase, Villoch sums up the embryonic phases that startups go through to become part of the BBVA program. "We choose companies that are starting up, and we act as an umbrella of opportunities and a facilitator of tools", indicates the expert.
As the process of entrepreneurship can become "chaotic", it is important to systematise and organise it. For this reason, the programme uses the GoldsmithⓇ Model, a systematic business development and validation process developed by Randy Goldsmith, co-founder of Adventurees, recognised as 'best practice' by the International Business Incubator Association.
"There are three rounds of different depths on technology, marketing and business with the help of industry experts and a network of mentors"
Following this approach, the companies received mentoring and workshops to help them improve various aspects. "The Goldsmith Model is based on a list of things that are important when setting up a business, ordered according to the project's level of progress (pre-seed, development and commercial phase). There are three rounds of different depths on technology, marketing and business development with the help of industry experts and a network of mentors", explains Yael H. Oaknín, CEO of Adventurees.
According to the expert, "an ecosystem, relationships and synergies are created between companies in the sector and the startups, which is also interesting for the bank's different business areas". Also, as Villoch stresses, "the support that some startups give to others is important - there is a lot of cross-motivation. Rather than competing against each other, they compete against themselves".
Tailored mentoring
When a company is just starting out it may feel lost and face barriers that it cannot understand or even identify. The Adventurees investor and mentor for the acceleration programme, Ignacio Loscos, details some of those obstacles that startups tend to face and that he has seen during the BBVA Open Innovation programme.
"Although they have very good product ideas, they sometimes target everything at once and don't sharpen their business model - they have to know how to focus on something that they can grow and that they know how to do", he indicates. Going in the wrong direction isn't a problem, "it doesn't matter if you choose a different idea if you know how to rectify it, but sometimes you have many avenues open and you have to close some of them", adds Loscos.
Another relevant aspect is finance: "They need to be clear about how they can become a lucrative startup, define their target audience, and understand how and what they can charge for their service", explains Loscos. They may also need marketing support.
"It doesn't matter if you choose a different idea if you know how to rectify it, but sometimes you have many avenues open and you have to close some of them"
The CEO of Adventurees adds that they tend to forget to evaluate whether their proposal is unique and brings value: "It is typical for someone to be focused on their idea and to believe that it is the best in the world, but they don't properly analyse what's already on the market. They have to study the state of the art of that technology".
From there, mentors, speakers and experts guide the startups to help them grow. "There are over 20 mentors who they've been able to count on to have personalised meetings and raise specific issues", explains Oaknín.
For all the startups that have taken part in the acceleration programme, they are now setting out on a more rapid route to success, with the knowledge they have acquired in their knapsack and the boost from BBVA as a driver. Because, as Villoch indicated during the event, "this is the end of the acceleration programme, but it is the beginning of a new stage for all of you".