"With the digital revolution, there will be more wealth and prosperity, and less inequality"
BBVA executive chairman Francisco González attended this year's meeting of the International Monetary Fund (IMF) and World Bank in Bali (Indonesia). He commented that resulting from today's digital revolution, "ultimately there will be more wealth and prosperity for the whole world, and I hope less inequality; less difference between the have and have-nots." Francisco González's remarks come from what will be one of his last international meetings ahead of handing over the baton to Carlos Torres Vila, after December 31.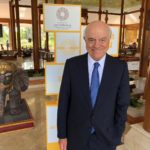 In statements made from Bali, Francisco González shared his view on the impact of the fourth industrial revolution and how it will be felt in the lives of people, specifically regarding employment. According to BBVA's chairman "Each industrial revolution has been followed by more wealth and prosperity for all humankind. The same thing will happen with the digital revolution." However, "in the short term the transition is difficult for many people, especially because some jobs are threatened. But according to some studies, it's also true that the digital revolution will produce more than 120 new professions." Within this context, Francisco González remains a 'techno-optimistic' and emphasizes the need to effectively manage the transition.
The annual event, which brings together politicians, economists, and leaders from the financial sector, focused on the global economic prospects, ending poverty, economic development, and aid effectiveness, among other topics.
In parallel with the annual assembly of the IMF and the World Bank, the Institute for International Finance (IIF) is also holding its annual meeting in Bali. José Manuel González-Páramo, executive director and head of economics, regulation and public affairs at BBVA, will share BBVA's experience this Saturday in a panel organized by the IIF entitled "Regulating digital finance: Ensuring a level playing field."
Indonesia hosts this year's annual assembly of the IMF and the World Bank where IMF managing director Christine Lagarde presented the global economic forecasts. In addition, the meetings discussed the possibilities of innovation and technology to expand economic and social development in developing countries. A special session entitled "The Bali FinTech Agenda" was organized for this year's forum, focusing on in-depth discussions on topics such as regulatory sandboxes. Central bank authorities, finance and economy ministers, politicians, academics and private sector representatives are also focusing on increased trade tension and its repercussions on emerging markets and the global economy.