Lauded chef Jordi Roca of celebrated El Celler de Can Roca travels to Denver for pop-up dinners
One of the top chefs in the world visited Denver last week, delighting guests with whimsically designed dishes, unique wine pairings and an atmosphere usually found in a small part of Spain.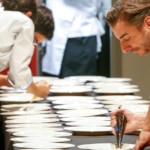 Jordi Roca, co-owner of the renowned Girona, Spain-based El Celler de Can Roca - alongside his brothers, Head Chef Joan and Sommelier Josep - came to Colorado and created a multi-course meal for two dinners on Nov. 1 and 2. The event was part of a BBVA-sponsored visit to the Mile High City to give bank clients a unique experience.
BBVA Compass strives to give its clients, communities and local small businesses a chance to experience something different...
"This restaurant is always booked months ahead, and people from all over the world are on wait lists for a long time," said BBVA Compass Colorado CEO Andy Wykstra. "BBVA Compass strives to give its clients, communities and local small businesses a chance to experience something different and get insight from top minds. It's part of our mission to create opportunities in multiple ways by leveraging sponsorships we have as a local bank dedicated to its areas and as a financial institution with global resources."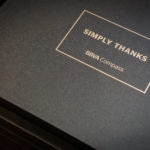 An ode to Denver
The Roca brothers have been BBVA brand ambassadors for the past four years, and during that time have traveled across the globe with the bank to bring clients the atmosphere and innovation that has made their restaurant a culinary gold standard. Known as the "holy trinity" of the culinary world, the brothers have seen their restaurant make it to the top of Restaurant magazine's World's 50 Best Restaurant list in 2013 and 2015, while making the top 3 for the past five years overall. The restaurant has also obtained three Michelin Stars, an extremely rare and prestigious achievement for restaurants the world over.
While Jordi traveled to Denver without his brothers, he brought with him 15 staff members from the restaurant to create a similar experience for bank clients, prospects and community leaders at HALCYON, a hotel in Cherry Creek. The venue's modern luxury ambiance served as the backdrop for both dinners and preceding cocktail hours, where appetizers were passed around at the rooftop bar with a 360 view of the Colorado mountains on the first night.
The meal consisted of one of the Roca brothers' most famous dishes, Dig Into the World, where five bites each consisted of flavors inspired by different countries visited on the BBVA Roca Tour in previous years. Also included were suckling pig, prepared by a sous vide technique, vegetable consommé, and a dessert called Lemon Cloud that mimics the scent of perfume. A dessert in the shape of a football was also included at the end of the meal- a nod to the local professional football team.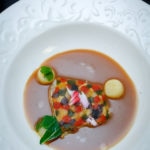 12 culinary students from the Metropolitan State University of Denver and the American Culinary Federation Colorado Chefs Association apprenticeship program were given the opportunity to help prepare the dinner, working with Roca's restaurant staff on both nights. Students were chosen by MSU-Denver staff after students gave classroom presentations during the weeks leading up to the event.
Advice and opportunity for the next culinary generation
While in the area, Roca also participated in a class lecture at the Metropolitan State University of Denver, where he answered questions around technique, his inspiration and his thoughts on the Denver area. He also gave a presentation that touched on his family's background in the culinary world and inspirations for some of his most famous desserts.
Eosther Fajardo-Anstine of MSU Denver (far left) and Brandon Hart (far right) from the American Culinary Federation Colorado Chefs Association stand with Chef Roca and program representatives after they were selected to intern at El Celler de Can Roca for four months in 2018.
On the last night of the dinner, Roca also chose two students who helped with the dinners for a scholarship to include a four month internship at El Celler de Can Roca in 2018. The two winners were Brandon Hart from ACF Colorado Chefs Association and Eosther Fajardo-Anstine from MSU-Denver. The opportunity is the fourth such year where students will work at El Celler de Can Roca in apprentice roles. Similar internships were given to culinary students in San Francisco and Phoenix during the 2016 BBVA Roca Tour.
Denver is only U.S. visit for Jordi Roca in 2017, while other stops with BBVA in previous years have included:
-- Dallas
-- Houston
-- Birmingham, Ala.
-- Miami
-- Phoenix
-- San Francisco
See photo gallery below: