The BBVA-El Celler de Can Roca tour has touched down for the first time in Asia, with a week of events in Hong Kong. Wine-tasting, cooking and pastry-making masterclasses and a series of dinners in the Hotel Peninsula in this international setting have once again served to enhance the reputation of Joan, Josep and Jordi Roca.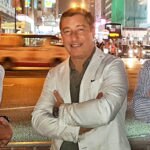 Over 10,000 kilometers separate Spain from Hong Kong. Worlds apart for many, but for the Roca brothers, this is merely a minor detail. Although still a little jetlagged (seven hours' difference with London, the last stop on their tour), in a little over 24 hours they already feel at home in the facilities of the Hotel Peninsula, the headquarters of El Celler for seven days.
Their team and their local assistants –selected from one of the most prestigious culinary schools in the country– work in perfect coordination to create the choreography with which to regale the almost one hundred diners.  This stop by BBVA-El Celler de Can Roca Tour in Hong Kong has special significance for the Roca brothers, as this is their Asian debut. This is the first time the expertise of Joan, Josep and Jordi has been on display in this part of the world, with ideas embodied in a series of dishes that pay their own special homage to Asia and the host country.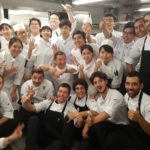 Students from the Hong Kong Culinary Arts helped the whole team of El Celler de Can Roca
A continental journey
The dinner begins with a voyage around the world, with flavors from London (Scotch egg with salmon); Hong Kong (octopus polpetta); San Francisco (nugget on Californian almond with plum and chipotle); Santiago de Chile (mincemeat pie with merken); and the Mediterranean (olive with black olive, anchovy and tomato gazpacho).
The starters include highlights such as the chilled lemon tea bonbon, creamy starfish –and especially the rose– scented shrimp dumpling, an experience for all five senses.  Accompanied by wines from Rueda, Jerez, Conca de Barberà, Rioja, Priorat and Ribera del Duero, the main courses were a direct acknowledgment of Asian ingredients. The stars here were the oyster with rice noodles, seaweed and tofu; the suquet of northern red snapper with kefir lime sauce and ginger, sesame and soy gnocchi; and roast suckling pig served with green papaya, Thai grapefruit, apple, coriander, pepper and lime. Another two dishes were notable due to their fusion with Joan's Catalan roots: the first, squid with tempeh and ganxet bean; and the second, roast Chinese and Catalan duck with hoisin sauce, served with orange and black garlic, fermented with onion, sauteed garlic and a touch of lime.

For desserts, Jordi –voted the best pastry chef in the world– was in no doubt as to the ingredients of his new creations: lychee, tiger mango, mandarin orange, longan and durian. For the first he opted for a flowering mandarin crème caramel with mandarin orange sauce, and for the second he served a mango ice cream (with the imprint of a tiger) with a fruit salad of coconut, lychee, longan and durian –this last a particular delicacy in Asia with a very unusual taste for unschooled palates.
The diners' verdict, after more than 20 dishes, was unanimous: Asian cuisine holds no secrets for the Roca brothers. The BBVA–El Celler de Can Roca tour now continues on its way to Phoenix, the third stop on this year's tour, which will also take the brothers to San Francisco and Santiago de Chile.