Másfamilia Foundation recognizes BBVA's commitment to promote work-life balance among its workforce
BBVA was one of the companies distinguished by the Másfamilia Foundation for "its long-term commitment to the preservation of work-life values in its business culture." The financial institution earned the EFR quality stamp ten years ago. The Foundation awards the EFR stamp to recognize companies that promote work-family-personal life balance, equality and diversity.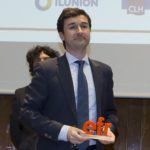 "At BBVA we are aware that diversity and work-family balance are key to attract and retain talent and a cornerstone of our success as an organization," emphasized Ricardo Forcano, Head of Talent & Culture at BBVA, who received the award from the hands of Dolors Montserrat, Minister of Health, Social Services and Equality.
"Despite the level of progress we've achieved in these ten years collaborating with the Másfamilia Foundation, we're not ready to settle yet. We want to keep promoting new measures and initiatives across the Group," added BBVA's Head of Talent and Culture.
Forcano also underscored the importance of quality certifications that acknowledge family-responsible initiatives by businesses - such as the EFR, which was recognized by the UN in 2012 – because, "as Lord Kelvin said, if you can not measure it, you can not improve it."
For her part, Dolors Montserrat paid tribute to the work that companies which committed to these policies more than a decade ago are carrying out to promote work-family balance. Furthermore, she emphasized the need for public institutions to work with civil society, businesses and institutions "to create synergies that will allow reaching a national pact for work-life balance and the rationalization of working hours".