After the recent ratings upgrades announced by S&P, and DBRS, rating agency Moody's has changed the outlook on its long-term rating for BBVA (Baa1) to positive from stable. In its press release, Moody's said it favorably views the bank's capacity to issue bail-in-able debt in order to meet MREL requirements.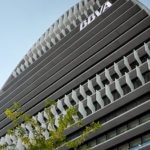 This rating action is based on BBVA's bank's balance sheet structure. Moody's is confident BBVA will continue to issue bail-in-able debt, in order to meet the requirement that will be established under MREL. The agency expects BBVA to complete its medium-term issuance plan. This would mean refinancing covered bond and senior debt redemptions amounting c.€8.8billion with junior senior instruments. The agency believes the bank will continue to have good access to capital markets.
On April 13, Moody's raised Spain's sovereign debt rating by a notch to Baa1 from Baa2 previously, based on an improvement in the country's credit profile. It noted the enhanced resilience of the Spanish economy, reflecting Spain's increasingly more balanced growth profile and the improved fundamentals of the banking.