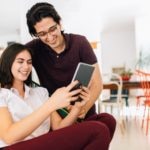 According to the online banking information resource, BBVA was one of only three banks named in the category. The 11th annual Best of Banking Awards honorees were chosen by MyBankTracker's editorial staff, who compared, reviewed, and ranked hundreds of financial institutions and products across 24 categories, including the top national banks, online banks, savings accounts, checking accounts, credit cards, brokerages and more.
I work with a great group of people...
"It's very humbling to see a steady amount of awards come our way over the years, and especially over the past few months after a particularly challenging year," said BBVA USA CEO Javier Rodriguez Soler. "While we were placed in this category because of our products, it's the people behind the creation and facilitation of these products that put us over the top. I work with a great group of people who are some of the most hardworking professionals in the financial industry. This award validates that."
MyBankTracker is an independent comparison website helping consumers make smart banking and financial decisions. The mission is to match consumers to their perfect bank by providing and tracking in-depth information on more than 5,000 banks, credit unions and financial products.
"Following a year of economic uncertainty, it's crucial for consumers to choose the right bank account and financial products," says Simon Zhen, the personal finance site's senior research analyst and lead curator of the awards. "What suits one consumer may not be the right fit for another. We were founded at the height of the Great Recession to bring transparency to consumers and help change the way they bank. Now in our 11th year, we find ourselves in a different economic crisis. We hope this year's list acts as a starting point for those looking to streamline their banking, make the most of their hard-earned money and grow their investment portfolio in 2021."
(story continues below)