BBVA CIB, a pioneer in accompanying its clients in the transition to a sustainable future
As part of his tour across all regions and business areas, BBVA CEO Onur Genç met in Madrid with the team of the bank's wholesale banking area, Corporate & Investment Banking (CIB). Genç had the opportunity to review the priorities of the business units and wholesale banking products that comprise this area of the bank.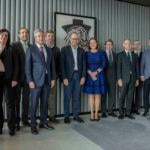 Despite a complex environment, BBVA's investment banking area exceeded its own expectations in 2019, a record year, whose key was the outstanding activity and good results, especially of its transactional banking unit. In 2020 the environment will once again be challenging due to various factors: interest rates remain at record lows (the Fed of cut rates by 50 basis points on Tuesday), a more restrictive regulation, increasingly demanding clients and strong competition in the market. In addition, there is uncertainty regarding the outbreak of the coronavirus (Covid-19) and its impact on market performance and the pace of global economic growth.
In this context, BBVA CIB has been endowed with an ambitious budget aimed at building up its contribution to the Group's financials and to deliver on a clear mission: to be a reference for the clients it serves. And to meet these goals, the area has rolled out a series of global business plans aligned with the Group's priorities. These projects are cross-cutting and aim to increase the value of relationships with clients; leverage their competitive advantages; ensure profitable growth; and improve CIB's position vis-à-vis the competition. Along these lines, the unit focuses its efforts on those products where it has the greatest capacity and on the geographies where it already has a consolidated presence.
"I'm sure that CIB and the Group will have a very successful 2020"
As Onur Genç pointed out over the course of his visit, "BBVA CIB is an essential area for the Group both due to its global nature and contribution to results. Also, BBVA CIB is going to play a key role in the development of the Group's new strategic priorities, especially regarding profitable growth, the improvement of our clients' financial health, and the transition toward a more sustainable future. Despite the complexity of the environment, I'm sure that CIB, and the Group, will have a very successful 2020."
Sustainability has become one of the main topics on the agenda of many CEOs and large investors, and also represents a major challenge for banks. BBVA CIB is well positioned in this space, for having been one of the first to identify this need from clients and to be a pioneer in the development of the sustainable, green and social market. In this regard, BBVA CIB is among the top 10 banks globally in euro green bond issuance and top three as a green agent in sustainable lending in EMEA. Without a doubt, the area will continue to innovate around sustainability, and this will open, not only a business opportunity, but also a new line of dialogue with its customers.
Global Head of BBVA CIB Luisa Gómez Bravo said: "Our goal is to promote a positive social and environmental development across all the geographies in which we are present, hand in hand with our wholesale clients. BBVA CIB's aim is to support its clients' transition toward a sustainable future to ensure that their present profits are sustainable tomorrow."