BBVA took the opportunity afforded by the construction of its new corporate headquarters in Spain and Mexico to effect a profound change in the ways of working and hasten the digital transformation process of the financial group across the globe.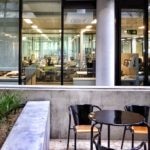 Ciudad BBVA is more than just an office complex: it is a space created to nurture collaboration and the exchange of knowledge at all levels by creating open spaces that prevent the formation of small, closed groups and to enable more dynamic decision making processes.
Consistently with this approach, the new headquarters boast more meeting rooms and informal meeting areas, while closed offices have been removed altogether. Technology, ubiquitous across the complex, allows employees to work from the location that suits them best at any point in time, tearing down physical boundaries of the classical workplace, which now becomes a range of possibilities from which to choose.
Also, the wifi enabled catering areas double as gathering places and informal meeting areas. Small rooms have also been provided for individual use, designed to hold video and audio conferences while providing the level of confidentiality that certain occasions require.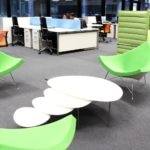 Ciudad BBVA also houses a Business Center, equipped with all the amenities required to accommodate customers and visits, including meeting rooms, catering services, restaurant and IT support.
The headquarters encompasses a range of architectural elements– walkways between buildings, helical staircases and the ring surrounding the central plaza – that connect some areas to other and contribute to strengthen the idea of transversality.
Air quality improvement
The new headquarters is also equipped with a digitization and printing system comprising state of the article multifunction units. The centralized system provides a cleaner work environment and an improvement in air quality within the offices, as there are spaces that are especially designed for this purpose featuring dedicated ventilation systems. At the same time, the system yields improved productivity, quality and performance levels as well as energy and paper savings.
Also, a document manager has been rolled out, in order to optimize the available space and allow more efficient document searches.
Services to make employees' lives easier
One of BBVA's aspirations is to offer all its employees the best environment to perform their work and for that purpose the new headquarters boasts a comprehensive range of services, including everything from catering, to healthcare and family support.
Employees can enjoy the services of a main restaurant, cafeteria and a "a la carte" restaurant which offer a combined seating capacity of 1000 guests. The complex also boasts a take away service and a dining area for those who prefer to enjoy their home-cooked meals.
Near the catering area, a space has been provided to host a number of services, including a processing agency, drycleaners and shoe repair and tailoring services.
Other amenities include a sports center – equipped with weight and fitness rooms, rooms for group classes and swimming pools – and a medical center aimed at physiotherapy and rehabilitation. These facilities can be accessed by all employees, not only those working at Ciudad BBVA, and their families.
Rounding-off the complex's services, a Nursery School, with capacity for 250 children aged 0 to 3, will not only take care of the children of BBVA workers, but also organize activities during the summer school break.