Promoting transformation in BBVA Colombia through Scrum
The bank in Colombia has adopted collaborative, agile work methodologies, involving dozens of people from different areas in the process.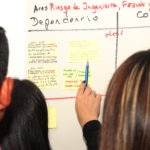 The new development framework and work methodology known as scrum is being implemented in Colombia, together with Spain, Peru, Mexico and recently, Chile. The goal: to get great results by mainstreaming and quickly executing projects. This represents a major cultural transformation on a global scale for a bank that wants to lead digital banking of the future.
At the bank's headquarters in Bogotá, a working session was recently held as part of the quarterly planning meeting. The bank's Single Digital Agenda (SDA) priorities were discussed, which brings together BBVA's main transformation projects under the Agile methodology. 142 people from different areas attended, all of whom run cross-cutting new processes and products that are part of the future of banking, such as BBVA Wallet, ATM 4.0, and Express Banking, among others.
"With this project, we are counting on these new ways of working taking root and eliminating conventional structures so that multidisciplinary teams come together and achieve better short term results. The idea is to break the mold and get different working groups to participate in this model, achieving the ultimate goal," noted BBVA Colombia CEO, Óscar Cabrera, who attended the Scrum session and underscored the benefits of the Agile methodology.
Pedro Buitrago, Business Development Vice President at BBVA Colombia, stressed the benefits of this new model for BBVA:
"We have united the bank's main transformation projects. What is most important is that we are changing the way the areas work, eliminating hierarchies. The different areas are working in a coordinated and urgent manner.
Fabiola Acosta, Vice President of Digital Banking at BBVA Colombia, indicated that "agile methodologies are the entry point to a new way of working in which BBVA has the prominent role. It is a huge learning opportunity that creates added value and is proof of a transformation process toward the future of banking.
Over the next few weeks, in all countries, working teams organized into Scrum will be created using the Agile methodology. The head of Country Networks at BBVA, Vicente Rodero participated in some of the opening sessions.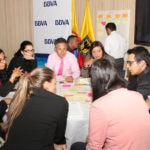 How does it work?
Scrum is based on designing projects in less than three months and the cross-cutting participation of different areas of the organization. For example, the head of marketing works side-by-side with those in charge of software development or others who analyze user opinions. This allows for a more global perspective, while also meeting the different needs of the each participating area in an agile manner.
To twitter
The main concept behind SCRUM consists of working with people from other departments with tight deadlines and a strong determination to complete the project.
The main concept behind Scrum consists of working with people from other departments with tight deadlines and a strong determination to complete the project. This represents a competitive advantage over all other rivals since new products can be promoted using different resources and knowledge from other areas. It has also shown to be more effective in terms of meeting deadlines since other teams, and the project's progress in general, directly depend on the work of each member of the working group. Therefore, participants tend to act accordingly, increasing effectiveness and execution speed.
Teams participating in the Scrum development framework, under Agile methodologies, choose and decide what project they want to implement from the very beginning. This means they develop a greater commitment to their work and are more motivated, collaborating in something that brings personal satisfaction as well. After selecting the project, it is broken down into an outline, including both the milestones for the stipulated three month period, as well as any external dependence. This dependence could be on another project or another area. This person or group of people is informed and working with them becomes a priority.