Searching for "touchpoints", a job for design detectives
The BBVA Innovation Centre hosts a new edition of "Design Wednesday". In it, experts address the role of design in customer interactions with products and services.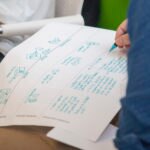 Every service must answer the questions "What?", "How?", and "Who?", but not all answer other equally relevant questions such as "Where?" and "When?" Designers and experts in related disciplines speak on the importance of touchpoints for services.
Touchpoints are the ways in which customers interact with services. According to experts, when these points are connected, aligned with an objective, and provide customers value, they constitute a service. Examples of touchpoints include the usher who takes you to your seat in a theatre, the moment you pass in front of a branch office and see a poster with product information, or when you use an app to block one of your cards.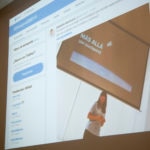 Design Wednesday presentation.
Verónica Bello, an architect specialised in retail spaces and a service designer at Designit, explains: "Touchpoints evidence the brand and are part of the customer experience. It is essential to consider and include them in the design phase since they provide solutions to the needs of customers who interact with them." She adds that it is important to not only consider products and services, but also everything that affects the customer experience since all these things are touchpoints to be designed.
"Service design" units are dedicated to this task and work to create touchpoint sequences, ensure an optimum customer experience, and align company resources to make services viable.
David de Prado of BBVA's Service Design Unit, states: "One of the most important contributions of service design to BBVA's projects is to facilitate a global vision of a service on which everyone involved in a project can work, regardless of whether they come from a business, technology, design, or data area." De Prado adds that, in order to do this, service design envisages the objective of the service and attempts to understand it from the customer point of view. How customers learn about a service, how they purchase and use it, and even how they stop using it, is essential information if BBVA is to use its relationship with customers to improve their lives.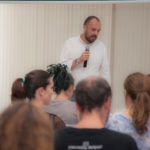 David de Prado, from the BBVA Services Design Unit during the Design Wednesday session.
At "Design Wednesday", Bello reviewed various contexts relevant to the experience of a service: the team that helps deliver the service, the sensorial experience, and the experience of the service in motion. These contexts are either considered by or eliminated from the touchpoint design process, with an example of their elimination being Amazon's decision to remove touchpoints from its Amazon Go service.
BBVA has made design a strategic function within its organisation, which has led to the rapid growth of this discipline within the Group and the creation of a first-rate global multidisciplinary team.
One of the best-known design service tools is the Customer Journey Map, the purpose of which is to visualise a complete service, the various tangible elements that make it viable, and the company resources and personnel who ultimate deliver it.
Service design promotes an overall vision of the bank's projects"
A "new" discipline
Service design has been around for just over 20 years and so is still a relatively new discipline. In recent years, it has been adopted by national and international companies betting on design including Philips, Marriott, Mayo Clinic, Pepsico, and 3M. BBVA has recently strengthened its service design area. David de Prado states: "The Group already has all the [design] recourses it needs to create a customer experience that will make the difference." He adds that service design will now accompany BBVA customers every step of the way as they continue on their financial journey.
Verónica Bello concludes: "In the future we must adopt a strategy that makes the customer experience more fluid in contexts that are often uncertain, diverse, and even arbitrary."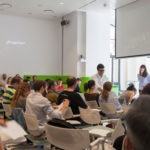 Verónica Bello, service designer at Designit's office during Design Wednesday.