Payment and Banking, a German publication spectating in fintech, names solarisBank the 'best fintech of 2017', for its exponential growth. BBVA recently took part in a funding round in which the firm raised €56.6 million.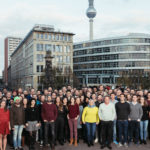 In the two years since it was created, solarisBank, in which BBVA recently invested, has grown from 10 to 150 employees, raised €95 million in different funding rounds, and signed agreements with over 60 business clients.
The 'Fintech of the Year 2017' award, handed out by one of Germany's most authoritative fintech publications, Payment and Banking, attests to the company's stellar track record. The firm earned the award in the later stage startup category, where it competed against other emerging fintech players, such as N26 or Kreditech. The jury was made up by journalists from some of the country's most prominent financial media outlets, including Handelsblatt and Süddeutsche Zeitung, startup executives, and representatives of venture capital and consultancy firms.
In reaching its verdict, the jury weighted the company's quick growth since it obtained its bank charter, through the creation of a scalable platform used by a greatly varied range of customers. The €56.6 million raised by the startup's in latest Series B funding round, in which BBVA took part, was also considered a determining factor by the jury.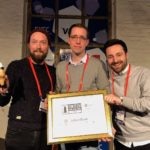 Peter Grosskopf, CTO solarisBank; Dr. Jörg Howein, CPO solarisBank; and Philipp Blankenagel, Head of Communications solarisBank, during the event "Exec Fintech 2018".
solarisBank was founded in March 2016. BaFin - the German Federal Financial Supervisory Authority – and the European Central Bank granted it the banking license, just 9 months after filing the application. solarisBank started turning profits in a matter of months, when it started connecting its first partners to its platform's payment, lending and digital banking APIs.
solarisBank was one of the first digital financial service platforms to secure a bank charter and one of the pioneers in the development of the Banking as a Service (BaaS) concept, which, through the use of APIs, enables customer companies to offer both solarisBank's and third-party financial services.