Supercomputing and four other digital capabilities Europe needs
Investment in growth in the European Union is less now than it was before the last financial crisis, despite the many modern-day challenges: the digital revolution, climate change, an aging population, migration, to name a few. José Manuel González-Páramo discussed this issue at the Rome Investment Forum held in the Italian capital. The BBVA executive board member stressed that long term investment capacity in Europe should focus on two crucial challenges: adapting to a more sustainable growth model and investing in strategic digital capabilities.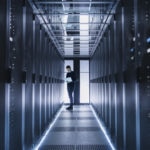 BBVA's executive board member emphasized that the development of a Single Digital Market in the European Union should be accompanied by a robust digital infrastructure. He also welcomed the ambitious investment and funding initiative, Digital Europe Programme, which seeks to give the EU a competitive boost and to develop Europe's strategic digital capabilities. What are the five most important digital capabilities?
Supercomputing. Supercomputing and data processing are crucial for the development of many domains, from health and renewable energy to cybersecurity, but Europe is investing little in this area, with an annual funding gap of between €500 million and  €750 million.
Artificial intelligence. Ramping up investment is needed in order to take full advantage of artificial intelligence, but also to ensure adequate ethical and legal frameworks. BBVA's executive board member believes that digital innovation centers play a critical role in the area.
Cyber security and trust. José Manuel González-Páramo stressed that the EU must drive cybernetic defense and cybersecurity, financing the latest generation of infrastructure and teams, developing the necessary skills and knowledge.
Digital skills. In the same vein, he emphasized that the acquisition of these skills is especially important for SMEs and public administrations.
Expanding digital technology use throughout the economy and society to facilitate access to technology and knowledge for all enterprises, especially SMEs.
Sustainability, hope for European growth
The BBVA executive board member reiterated that an additional investment of €180 billion is still needed this year in order to be able to fulfill the 2020 goals agreed in the Paris Agreement. This investment should be distributed among three areas: energy efficiency, renewable energy, and clean transportation.
He explained that banks play a critical role in the fight against climate change and the attainment of the United Nations Sustainable Development Goals, because banks are positioned to secure the required resources.
Europe needs both public and private sectors to hasten their adoption of new sustainable technologies that will foster European businesses ability to compete. From González-Páramo's point of view, this is particularly important for small and medium-sized companies, which have less access to these resources. He maintains that the financial sector should be part of the solution, helping these companies contribute to the fulfillment of the EU's sustainability objectives.
In his opinion, the creation of a sustainable agenda — a priority within the mandate of the new European legislature — is good news. The Commission wants to pursue ambitious initiatives such as the European Green Deal, which aims to make Europe the first continent to reach climate neutrality. To this end, the EC is pursuing a European Climate Law which would enact a legally binding target of reaching net-zero carbon by 2050. In addition, a European Plan for Sustainable Investments is envisioned to free up a billion euros for sustainable investments in the next decade. Finally, it is working on creating a regulatory framework to foster sustainability.
The Rome Investment Forum is a financial event organized by the Italian Banking Federation where businesses, regulators, and members of the "third sector" can come together to discuss the future of Europe. José Manuel González-Páramo participated in a round table, addressing the primary challenges facing Europe with regard to financing competitiveness and sustainable growth.
The round table discussion included input from Michael Cole-Fontayn, president of the Association for Financial Markets in Europe (AFME); Fabrice Demarigny, president of the CMU High-Level Group; Mario Nava, director of Horizontal Policies in the EC's Directorate-General for Financial Stability, Financial Services and Capital Markets Union; David Marsh, president of OMFIF; and David Wright, president of Eurofi. Paolo Garonna, secretary general of the Italian Federation of Banks and Insurers (FeBAF) moderated the round table.