In its annual report, Intrama includes the success stories of more than 30 Spanish companies with the best practices in Diversity and Inclusion, of which BBVA is one. The global human resources consulting firm highlights the financial institution's strategic alignment of diversity policies, the communication of its projects and the training provided to its staff in this area.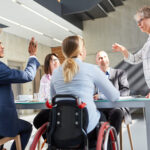 This is the fourth consecutive year that BBVA has received the Top Diversity Company certification, during the FactorW Diversity Summit, the largest professional congress and reference event in the field of corporate diversity. "At BBVA, diversity and inclusion are firmly aligned with our purpose and values. We are committed to diversity and it is one of the key elements in attracting and retaining talent and offering our clients the best service," says José Antonio Gallego, Head of Diversity at the company. "It is an honor to be part of this group of committed companies, and it encourages us to continue working in this direction," he added.
Vicente Marcos García, CEO of Intrama, announced the companies that are part of the rigorous study. "The report includes more than 15 sectors of activity covering a total of more than 500,000 workers nationwide and more than 2.5 million worldwide. Undoubtedly, and given the participation of these leading companies in their activity sector, we are facing the best example of the importance of promoting diversity to improve the income statement and optimize the management of human capital," explains the executive.
In this edition of the report, Intrama has focused on the best practices carried out by each company in a specific area of diversity, in BBVA's case, gender, to compile great projects that can serve as an inspiration and benchmark for other companies.
Corporate benchmark
This recognition of BBVA serves as the finishing touch to the celebration of its Diversity Days which, over several weeks, has provided training and information to the bank's employees on the different aspects of diversity in which they are working. The celebration included more than 30 workshops, inspirational talks and activities aimed at the entire workforce on neurodiversity, ethnic and generational composition, LGTB sons and daughters or female references in education, among other topics.
Actions such as these have led BBVA to become a benchmark in the business world in terms of diversity. This is demonstrated by the case study published by consulting company Gartner praising the bank's global strategy in this area, its inclusion for the fourth consecutive year in the Bloomberg Gender Equality Index, and its recognition as a finalist in the Euromoney magazine awards for Best Global Bank in Diversity and Inclusion and the LinkedIn Talent Awards in the Diversity Champions category.