BBVA and CAF confirm their commitment to Latin America to support a more sustainable economic recovery
Both organizations have signed a memorandum of understanding (MoU) to strengthen the mobilization of financial resources in Latin America and the Caribbean and to increase cooperation to boost economic recovery in the post-COVID era.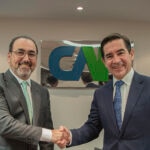 BBVA Chair Carlos Torres Vila and his counterpart at CAF - Development Bank of Latin America, Sergio Díaz-Granados, have signed an MoU through which they will join forces to promote sustainable development in the region, and support economic recovery after the pandemic.
For the BBVA Chair, "The agreement with CAF is a reflection of BBVA's commitment to the region in order to promote the post-COVID recovery with a focus on digitization, financial inclusion and sustainability."
The agreement aims to incentivize, develop and facilitate activities in areas like the joint financing of projects, green and social bond issues, or the expansion of programs in local currency. Furthermore, thanks to BBVA's extensive experience in the financial world, they aim to enhance the innovation of financial products and services with a high social impact, support for SMEs and microfinance companies, and knowledge generation.
Meanwhile, Sergio Díaz-Granados, Executive President of CAF, said: "Our partnership with BBVA entails the mobilization of new resources for green financing, which is essential for the countries of the region to move toward productive schemes and economies that are low in pollutant gases."
New technologies and support for decarbonization are transforming economic activity and the population's way of life.  This represents an enormous opportunity to transform society and companies in Latin America and the Caribbean - ensuring sustainable and inclusive growth.
BBVA and CAF have a long history working together to finance projects in Latin America through the development of capital markets and initiatives related to project finance, trade finance and credit lines. The bank recently granted CAF a $200 million loan to finance programs to help to alleviate the social and economic effects of the pandemic in the region.