BBVA and construction company Mace's London Eye in London, for a sustainable future
Mace, the company that managed the construction of the iconic London Eye, has become a global benchmark for sustainability in the construction industry. It has committed to reduce its carbon dioxide (CO2) emissions (CO2) by 10 percent each year, save 10 million tons of carbon for its clients and contribute to biodiversity gain through the protection of 500 hectares. BBVA is supporting the construction company in this transition.
The Great Wheel had an expiration date. It had been built for a specific purpose and, having carried over 2.5 million people above the London sky, it had to be demolished. Thus, over the course of 1907, the immense Ferris wheel built in 1895 for the Empire of India Exhibition at Earl's Court, a district in the Kensington and Chelsea borough of the British capital, disappeared from the map. However, its circular legacy would not completely abandon the spirit of London and its builders.
It would take almost 100 years, but a big Ferris wheel would once again spin in London. A lot had changed in the world when, in March 2000, the heir to the Great Wheel, the London Eye, opened to the public on the South Bank of the River Thames, facing the iconic Big Ben. The 21st century had kicked off, and the infinite spinning of a wheel would soon cease to be a simple attraction to become the symbol of a way of seeing the world. And in the midst of that transition was Mace Group, then a young construction company that took over the management of the construction of the new big Ferris wheel.
The London Eye, like its predecessor, was also to be temporary
However, only two years after its inauguration, it was decided to make it a permanent icon of the south bank of the Thames. At 135 meters high and weighing 1,200 tons, the Ferris wheel came to be defined as a triumph of engineering. Every year, more than 3.5 million people hop on to get a little closer to the London skyline. On their journey, they form part of the story of a company that has grown to become a benchmark for sustainability in the construction sector. A history of which BBVA is now also a part.
Building sustainability
When the first passengers went on the London Eye, climate change seemed a long way off. There was already talk of rising temperatures and greenhouse gases (GHGs), melting of the ice caps and rising sea levels, but it was far from being a priority on the agendas of governments and companies. However, there were only two years left before the signing of the Kyoto Protocol - the first document in which industrialized countries committed themselves to limiting and reducing greenhouse gas emissions. Moreover the Intergovernmental Panel on Climate Change (IPCC) had already published several of its reports describing in detail what was going to happen to the world if we did not do something about it.
Over the next two decades, the fight against climate change would move up the planet's list of priorities. The London Eye changed all its lighting to reduce the attraction's electricity consumption (and associated greenhouse gas emissions) by 69%. London, which aspires to be a carbon-neutral city by 2030, has limited the circulation of combustion vehicles in a large part of the city center. And sustainability has become a centerpiece of Mace's strategy.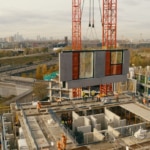 Modern methods of construction at N06 East Village.
The construction sector is today one of the largest emitters of greenhouse gases. According to UN figures, the construction and operation of buildings are responsible for 37% of global carbon emissions. Twenty-eight percent comes from the energy required to heat, cool, and maintain them, while the remaining eleven percent comes from the materials and construction processes. Furthermore, the expansion of urban and industrial land and the extraction of materials for construction are one of the main causes of the loss of ecosystems and biodiversity across the globe.
At the same time, construction is one of the drivers of the global economy. According to data from Oxford Economics, the construction market totaled a turnover of $10.7 trillion in 2020. This figure, according to their forecasts, will increase to 15.2 trillion by 2030. As such, the socioeconomic impacts of the sector, both positive and negative, are always very important. Construction can contribute to the development of a vulnerable community, but it can also accentuate segregation or worsen its quality of life (for example, with a new road that splits a town on the outskirts of a city in two).
"Our industry is changing. Mace knows the impact construction has on global carbon emissions. That is why one of the group's three priorities is to pursue a sustainable world," explains David Allen, Mace's Chief Financial Officer (CFO). "We are committed to reducing our carbon footprint by 10% each year. Through our Gold Standard verified carbon offset system, we became a carbon neutral business in 2020. We have also made a commitment to purchase 100% renewable electricity in line withRE100 and have signed The Climate Pledge to become a net-zero carbon company by 2040".
In recent years, the construction and consulting company, founder of the sector's emissions reduction initiatives ConcreteZero and SteelZero has also taken other steps towards sustainability, such as discontinuing the use of diesel-powered generators on construction sites, using electric or hydrogen-powered equipment and, in an unexpected connection with its origins and the London Eye, committing to the circular economy and reducing and recycling waste from construction projects. As explained by Transparency Market Research, construction generates around 2 billion tons of waste per year.
"As a leading company in the industry, we have a responsibility to lead change, introduce best practices throughout our global chain and help our industry do the right thing," stresses David Allen. Thus, Mace has developed a responsible business strategy based on pillars:
Impacting climate change – accelerating our response to the climate emergency.
Delivering a biodiversity gain – protecting, restoring and enhancing our habitats.
Creating social value – generating value for communities and the wider economy.
"One of our most ambitious goals is to help our clients reduce their carbon emissions by ten million tons. This is a new target having secured a pipeline of work to achieve our original target of one million tonnes several years early", adds Allen, which has in common with BBVA the setting of new targets to replace the old ones given the speed at which sustainable financing is acquiring momentum. In the case of BBVA, the target for sustainable mobilisation between 2018-2025 has been revised upwards a couple of times and triples the initial figure to 300 billion.
"We are determined to set an example for the built environment sector, showing that we can improve and that it is worth doing so. In this regard, the Race to Zero initiative allows us to share our knowledge and learn from others as we move forward." This campaign, which is part of the United Nations Framework Convention on Climate Change (UNFCCC) and to which BBVA is also a party, aims to mobilize and generate changes towards a decarbonized economy.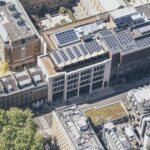 BREEAM Outstanding - UCL Student Centre
Financing: How much does the future of sustainability cost?
Following Kyoto in 2002, the world made a much deeper commitment to the fight against climate change through the Paris Agreement signed in 2015. By then, the warnings of climate science were already too overwhelming to ignore. Since then, the annual meetings of the Conference of the Parties to the United Nations Framework Convention on Climate Change, better known as COPs, have gained prominence. In all of them, beyond words and agreements, there is always a central issue: financing.
How to pay for action and adaptation to climate change, from energy transition to decarbonization of industry, is an increasingly important issue on the political and business agenda. For example, the European Union has just adopted its green taxonomy, a system for classifying all types of sustainable activities with the aim of strengthening and streamlining their financing. In this whole process of economic sustenance of decarbonization, financial institutions have a key role to play, as shown by the recent collaboration between BBVA and the Mace group.
"Financial institutions have a unique opportunity to drive the transition to a low-carbon economy. By investing in businesses that are truly sustainable, and directing other people's investments there, financial institutions can help improve understanding of the long-term value of sustainability, as well as the risks, costs and value losses that will come if businesses do not operate sustainably," stresses David Allen.
As a definitive step in its transformation, Mace decided to break into the sustainable financing market in May 2022; and it did so hand in hand with BBVA. Its entry into this market was certified through a GBP 10 million Revolving Credit Facility (RCF) with BBVA and a GBP 50 million loan financed by J.P. Morgan through the EDG facility of the United Kingdom Export Credit Agency (UKEF). Both lines of financing will support the company's international expansion and the fulfillment of its sustainability priorities for the remainder of the decade.
Both the RCF credit agreement and the loan agreement, for which BBVA worked as sustainability coordinator, are subject to three sustainability indicators: two of an environmental nature related to the reduction of carbon dioxide emissions and the increased use of renewable energies, and another social indicator based on reducing the accident frequency rate. "BBVA recognized our ambition to be an even more responsible company and provided us with flexible access to financing. In short, BBVA has helped us communicate the importance and value of decarbonization," adds Allen.
The clock in the fight against climate change is ticking just as fast now as it did in 2000, when the London Eye started turning. But today we are more aware than ever of how little time we have to act. As a result, long-term objectives have become urgent on the near horizon. In 2030, just seven years from now, emissions in EU countries should be 55% lower than in 1990. In the United Kingdom, the target is more ambitious and the reduction by 2030 should be 68%. Mace's goals go even further.
Over the next seven years, the company will reduce its greenhouse gas emissions by 10 % a year. By 2026, Mace is targeting a 24% reduction in wáter use and the same 24% reduction in waste, and aims to ensure that 25% of materials used on its sites are recycled. Its Tier 1 supply chain partners all have net zero transition plans.
"Our scale and influence allow us to accelerate and extend our impact in the fight against the climate challenge and help our customers stop emitting millions of tons of carbon over the next few years," concludes Mace's CFO.
"Today's innovations will quickly become tomorrow's standards: all-electric building plants, building management systems using artificial intelligence, nature-based designs, material passports and increased use of low-carbon materials such as graphene," he stresses. "There will be a shift towards a more circular economy and, gradually, the focus of organizations will also turn to curbing the loss of biodiversity and advancing social sustainability".