BBVA and Solarpack sign a €38 million green project finance deal to support renewable energy sales
BBVA and Solarpack, a multinational specializing in the development and construction of solar power facilities and in sales of photovoltaic solar energy in Spain, have signed an arrangement to finance a long-term power purchase agreement (PPA) with Shell Energy Europe. A total €38 million in green finance will be allocated to a renewable energy project located in Murcia, Spain, which will generate more than 100 gigawatts (GWh) per year. The project will avoid the emission of approximately 70,300 tons of carbon dioxide.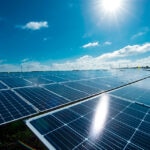 BBVA will provide green finance for 10 years starting in June 2024. During that period, Solarpack will supply Shell with 105 GWh per year of clean energy produced by a 54 megawatt peak (MWp) photovoltaic power plant located in Cañada Alta, Murcia, Spain. This energy generation is equivalent to the annual electricity consumption of more than 37,700 Spanish households. 
The solar plant will reduce Shell's carbon footprint by avoiding the emission of around 75,000 tons of carbon dioxide into the atmosphere each year. Beyond this positive impact on the environment, the deal between BBVA and Solarpack will have a social impact, as the construction of the plant will create 170 jobs locally.
"BBVA helps drive Solarpack's project within the framework of the bank's commitment to sustainability and special support for industries tied to renewable energies. Our goal is to guide our customers and society in the process of transition toward production models that are more respectful of the environment," said Fernando Alonso, BBVA's Head of Business and Corporate Banking in Spain.
"The power purchase agreement with Shell and BBVA's support in financing this project give Solarpack fresh momentum to continue with our company's ambitious growth plan. Solarpack again demonstrates its strong commitment to sustainability and, in particular, to the environmental, social and governance factors that are a strategic priority in all the company's activities," said Luis Alvargonzalez, Solarpack's chief financial officer.
With this new contract award, Solarpack expands its presence in Spain, a key growth market for the company.
BBVA is committed to the decarbonization of its customers
BBVA, which has made sustainability one of its six strategic priorities, has reached €150 billion in sustainable business, hitting half of its entire target through 2025. 79 percent of funds mobilized from 2018 to March 2023 were earmarked to foster climate action, while 21% were allocated to promote inclusive growth.
BBVA's commitment to offer sustainability-linked finance has eased the transition to a greener model for corporate and individual customers alike. Of the sustainable investment mobilized so far, 73 percent was credit to fund companies, transactional banking and individuals, while bonds issued by third-party intermediaries (17 percent), project finance (5 percent) and investment products managed or marketed by BBVA (5 percent) accounted for the remainder.