BBVA backs French transport leader Alstom in its first green guarantee facility
BBVA and Alstom have signed a €400m guarantee facility. This deal is a milestone for both companies, as it is both Alstom's first green guarantee facility and also the first BBVA has signed with a client in France.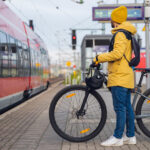 Alstom's mission is to support the transition towards sustainable transport systems that are inclusive, environmentally friendly, safe and efficient while implementing a socially responsible business model. In line with this commitment, the French industry leader has signed its first green guarantee facility under BBVA's sustainable transaction banking framework.
Alstom's business requires the issuance of large volumes of guarantees on a worldwide scale. Due to the quality of its service and its teams, BBVA is trusted by Alstom to support its guarantee needs in the 35 countries in which the bank is present, especially in Europe, Latin America and Asia. The collaboration between BBVA and Alstom also extends to all areas of corporate and investment banking.
Specifically, the use of funds of this €400 million green guarantee facility will be allocated to rail infrastructure and public transport systems that contribute to reducing road traffic; development, operation and upgrading of rail infrastructure for freight transport; renewal or replacement of vehicle, train or ship fleets with technologies that include electricity or hydrogen; and manufacturing of components related to these categories.
With this deal, Alstom is contributing to UN Sustainable Development Goals 9 and 11, 'Industry, innovation and infrastructure' and 'Sustainable cities and communities'.
BBVA, a leader in sustainable finance
As a sign of its firm commitment to the fight against climate change, BBVA announced its Pledge 2025 in 2018 through which the bank has mobilized €59 of the €100 billion it has targeted until 2025 in green financing, sustainable infrastructure, social entrepreneurship and financial inclusion. The bank has the capacity, knowledge and experience to provide its clients superior advisory services for sustainable financial solutions and is playing a key role in developing this market.
Since 2018, the bank has made further inroads in its goal to help its corporate clients with their sustainable finance strategies. In an unprecedented move in the industry, the bank has developed a sustainable framework for transactional products – a framework tied to the United Nations SDGs. The new methodology facilitates the classification of its clients' transactional banking operations designating them green, social, or sustainable.
Furthermore, new products (confirming lines and deposits) were launched under this framework at the end of 2019, including a new angle to certify products as linked to sustainability. In 2020, under its sustainable transactional banking framework, BBVA signed 41 transactions for €1,574 million.