BBVA celebrates its first year as a founding member of the UN's Net Zero Banking Alliance
On April 21, 2021, 43 financial institutions from around the world formed the Net Zero Banking Alliance (NZBA).   BBVA now celebrates its first anniversary as a founding member by leading progress in the financial sector toward a more sustainable world.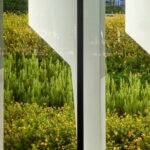 One year ago today, the banks in the international alliance pledged to make all lending and investment portfolios net greenhouse gas neutral by 2050 as a target date, in line with the goals of the Paris Agreement. In addition, the direct impact of each bank's activity must also be neutral, as already achieved by BBVA in 2020. Since its founding, a total of 108 banks representing 40 countries and 38% of the world's banking assets have joined the alliance.
Since its founding, a total of 108 banks representing 40 countries and 38% of the world's banking assets have joined the alliance.
"Our world needs more ambition and a joint global effort like NZBA's to speed up the shift to a net zero emissions economy by 2050. At BBVA, we are already carbon neutral in our own activity, and we also seek to be neutral in indirect emissions, including those of our clients," stated BBVA Chair Carlos Torres Vila. "We want to lead this transformation by supporting society in its transition to a more sustainable future," he added.
The day before the formation of the alliance, BBVA explained its goals. "Today we announce BBVA's commitment to be carbon neutral by 2050. This brings us 20 years ahead of the baseline scenario of the Paris Agreement," said Carlos Torres Vila at the shareholders' meeting of April 20, 2021.
With this alliance, BBVA (like the other founding members) committed to set intermediate decarbonization targets for 2030, and to achieve the ultimate goal of zero net emissions by 2050. In signing the NZBA Commitment, banks agree to set targets that are: robust—targets must identify carbon reductions across priority economic sectors; ambitious—targets must align with the Paris Agreement's most demanding scenario; and science-based. In line with this commitment, the bank announced it would discontinue finance to coal-related activities by 2030 in developed countries and by 2040 elsewhere.
In November 2022, once all its founding members have set their interim targets for 2030, the NZBA will publish its first collective progress report. BBVA had already announced a year earlier, on November 3, 2021, the four carbon-intensive industries that would be affected. From 2020 to 2030, the bank will reduce the carbon intensity of its loan portfolio by 52% in power generation, 46% in automobile manufacturing, 23% in steel production, and 17% in cement production. These sectors, together with coal, account for 60% of global carbon emissions.
"To achieve these targets, banks must undertake a tremendous amount of internal work – not least of which includes aligning leadership and lines of business, setting up data collection and reporting processes, navigating a patchwork of reporting standards, engaging board members and shareholders, and managing an evolving regulatory landscape. It will also require banks to engage proactively with their clients," the NZBA explains in its paper A vision for change, published on the occasion of its anniversary to set out the common position of its members.
BBVA itself is neutral in terms of net greenhouse gas emissions in its direct business – its own operations – through use of renewable energy and offsetting its entire carbon footprint with carbon mitigation projects. After a year of announcements and commitments, on February 2, 2022, the Dow Jones Sustainability Index itself recognized BBVA as the most sutainable bank in the world, together with a Korean bank.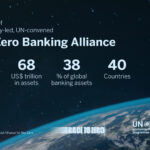 The NZBA within the framework of the United Nations environmental program
The NZBA, which is part of the United Nations Environment Programme Finance Initiative (UNEP FI), recognizes the critical role of banks in supporting the transition of the real economy to carbon neutrality, which will only be possible if clients and other stakeholders also play their part. The NZBA makes this commitment, "with the expectation that governments will move forward to ensure that the goals of the Paris Agreement are met." In addition, the NZBA encourages banks to cooperate in accelerating the development of the tools and methodologies required for the transition.
"To ensure that the net-zero transition is coordinated across the globe, the Alliance looks to central banks and supervisors to align on consistent frameworks and methodologies, provide specific climate-focused stability mandates, and establish a level global playing field that addresses the imbalances between developed and developing countries. The Alliance also depends on businesses that will foster innovative technological development and pursue new products and services.
Lastly, the Alliance relies on civil society groups, research organizations, and universities to provide challenges, build methodologies, conduct research, raise ambition, and investigate areas for improvement," states the NZBA in its paper 'A vision for change.'https://www.unepfi.org/news/industries/banking/nzba-first-anniversary/
"In line with a net-zero trajectory, banks are additionally expected to direct increasing amounts of capital towards low-carbon technologies in order to make these solutions accessible at scale."
The NZBA does not intend to dictate how members decide to set decarbonization plans, but will support them by identifying best practices and developing sector guidelines.
While the Alliance's sights are set on a net-zero future, it also recognizes that currently the global economy is very firmly rooted in a fossil-fuel dependent model. Considering this dependence, Alliance members must navigate the global energy transition with care.
The Net-Zero Banking Alliance does not advocate for immediate divestment of existing positions, as divestment limits the opportunity to positively impact company behaviors and accelerate transition to green technologies.
The Net-Zero Banking Alliance does not advocate for immediate divestment of existing positions, as divestment limits the opportunity to positively impact company behaviors and accelerate transition to green technologies. The NZBA observes the critical state of geopolitics in Ukraine, and the increased precariousness of the global fossil fuel energy supply as a result of events there. This further supports the critical need for an ambitious and expedient net-zero transition.
The NZBA's vision for change is rooted in the idea of achieving real economy decarbonization by aligning the providers of capital with a net-zero trajectory. "This is the same foundation that governs our sister UN-convened alliances and our partners in the Glasgow Finance Alliance for Net Zero (GFANZ)," the NZBA explains.
BBVA is also a member of GFANZ, a movement that brings together all actors of the financial system, including rating agencies, data providers and methodology developers, to help build a financial infrastructure that includes transparent and standardized climate reporting.