BBVA, Europe's most sustainable bank for the third year in a row, according to S&P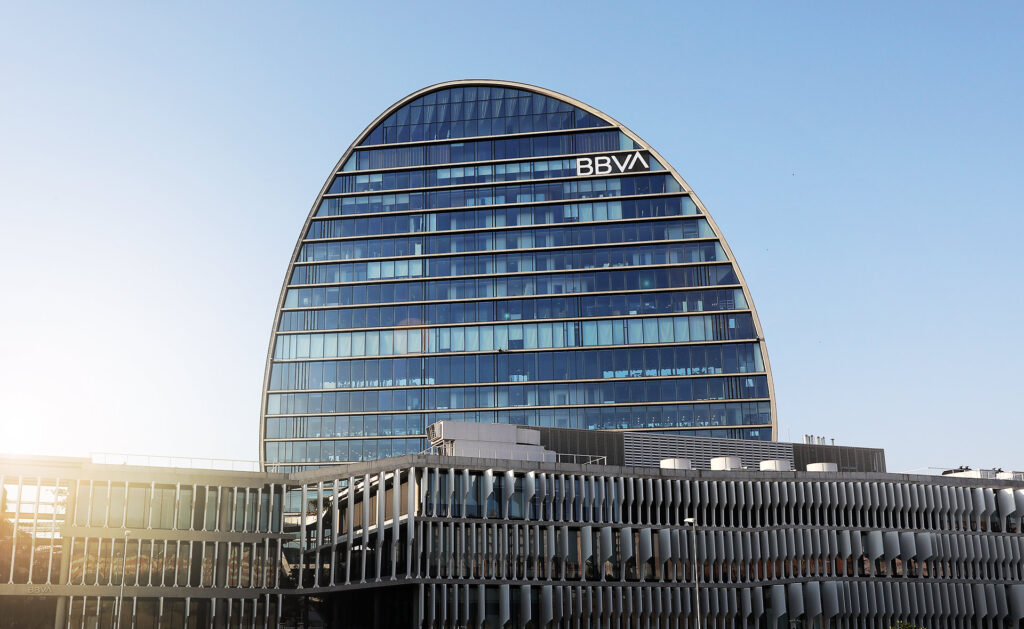 BBVA obtained the highest score among European banks analyzed by S&P in its Corporate Sustainability Assessment (CSA). For the third consecutive year, BBVA is the most sustainable bank in Europe as of October 21, 2022. This analysis is the basis for the composition of the Dow Jones Sustainability Index.
As of October 21, 2022, BBVA has achieved a total score of 86 points out of 100. The bank achieved 89 points in the economic and corporate governance dimension, 74 points in the environmental dimension, and 88 points in the social dimension. In addition, BBVA achieved the highest score (100 points) in several areas: financial inclusion; environmental and social information; human capital development; materiality; fiscal strategy; crime prevention; public influence or lobbying; and human rights.
"This recognition as Europe's most sustainable bank for the third consecutive year reaffirms the success of our strategy for a greener and more inclusive future. At BBVA, we finance, support and advise our customers and society as a whole, with a dual focus: the fight against climate change and inclusive growth," stated Javier Rodríguez Soler, BBVA's Global Head of Sustainability.
More than 13,800 listed companies were invited to participate in the analysis conducted by S&P Global CSA. Surveyed companies filled out an extensive questionnaire comprising almost one hundred questions on ESG (Environmental, Social and Governance), which includes public and non-public data on the respondents. Only the top 10% of companies in each sector in this analysis were selected to join the Dow Jones Sustainability Index (DJSI).
Assessment by S&P, the rating agency, determines companies' inclusion in the Dow Jones Sustainability Index. The composition of the index will be announced on December 9.
BBVA and its commitment to sustainability
In 2020, BBVA made sustainability one of its strategic priorities, and in 2021 created the global Sustainability area, led by Javier Rodríguez Soler, who is part of the organization's top executive line.
BBVA recently raised its goal of channeling sustainable financing through 2025 to €300 billion, three times the initial target of €100 billion it set in 2018.
In climate action, it is taking steps to meet its commitment to be carbon neutral by 2050, not only in its own emissions (where it already is) but also in those of clients. BBVA will stop financing coal-driven companies by 2030 in developed countries and by 2040 elsewhere. In addition, BBVA has set intermediate targets to decarbonize its portfolio in five CO2-intensive industries emisiones de CO2 (power generation, automobiles, steel, cement, and oil and gas) by 2030.
In inclusive growth, BBVA has a Community Commitment set for the period 2021-2025, in which it will allocate 550 million euros to social initiatives. This is the most ambitious social plan launched to date by the bank.
BBVA in the sustainability indexes
BBVA is included in the main international sustainability indexes, including the MSCI ESG Leaders Index, FTSE4Good Index, and Euronext Vigeo Index Eurozone 120. The bank is also part of the Bloomberg Gender Equality Index. In addition, BBVA obtained a B rating in the latest CDP Climate Change analysis and the Gold distinction within the banking industry in the S&P Global Sustainability Yearbook 2022.
Selection to and continued membership of these indices depends on proving consistent progress in sustainability issues and influences eligibility in investment portfolios, which attach increasing importance to companies' non-financial factors.
S&P Dow Jones Indices
S&P Dow Jones Indices is a division of S&P Global (NYSE: SPGI) that provides essential financial intelligence to individuals, businesses and governments for optimal decision-making with confidence. For further information: www.spdji.com.