BBVA is one of the most committed companies to gender equality, according to Bloomberg
Bloomberg's Gender Equality Index has once again included BBVA in its annual report analyzing companies' commitment to this issue. The bank is one of 325 companies listed in this edition, of which over one third come from the financial industry. Garanti BBVA, the Group's subsidiary in Turkey, is also part of the index.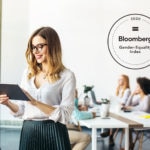 The Bloomberg report is a global reference for gender issues and measures companies' degree of commitment in five different variables: female leadership and talent, equal pay and gender pay parity, inclusive culture, sexual harassment policies, and what they call pro-women brand. In this edition, Bloomberg analyzed the transparency of gender information and the promotion of female equality in nearly 6,000 companies in 84 countries.
For the third year in a row, BBVA was one of the 325 companies included in the index for scoring above the global threshold established by Bloomberg. The study underscored the bank's salary policy, and the promotion and implementation of an inclusive corporate culture. "The 325 companies included in the 2020 GEI have shown their commitment to transparency and demonstrated leadership in gender-related data reporting," said Bloomberg President  Peter T. Grauer. "Disclosure of company statistics and practices is an important first step in supporting gender equality globally."
Garanti BBVA, BBVA's subsidiary in Turkey, was also included once again in the Bloomberg index, and is one of only two Turkish companies to appear in the report.
BBVA, a leader in gender equality
For Carlos Casas, the Global Head of Talent and Culture at BBVA, "Being part of the Bloomberg index for the third consecutive year encourages us to continue our commitment to equality and inclusion among all of our employees." BBVA's firm commitment translates into "creating an atmosphere of trust at work, in which professional development and equal opportunities are guaranteed for the entire workforce regardless of their gender."
Bloomberg's recognition is joined by the bank's inclusion in Intrama's 2020 Variable D Report of the 30 Spanish companies with the best diversity and equality practices; the bank  joining the Diversity Charter; and the signing of the #CEOporladiversidad (#CEOsfordiversity) agreement. BBVA initiatives, such as the project related to the use of inclusive language in job offers, were selected by Global Compact's Spanish Network as some of the best corporate practices related to the SDG 5.
The bank works on different initiatives to continue promoting equality and inclusion, and recently presented an ambitious plan for productivity and work-life balance to change the way work is done to allow employees to have a better balance between their personal and professional lives.
In addition, BBVA holds a variety of different workshops and activities to bridge the gender gap and promote the role of women in the organization. The bank also regularly collaborates with projects like Girls Gonna and Inspiring Girls to give greater visibility to women's roles among young people.