BBVA has trained 102,000 employees in sustainability between 2021 and 2022. In 2023, in addition to continuing to train new hires, the bank is focusing on the specialization of 15,000 professionals in sustainability, developing training programs adapted to their needs.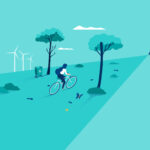 Now that all employees have surpassed this initial stage of knowledge (United Nations 2030 Agenda and the role of the financial industry), BBVA has put the focus on designing specialization programs.
These programs are available on Campus BBVA, the name given to the BBVA Group's training model, and they have been adapted to the needs of each country and to each professional. They provide the knowledge these professionals need to be able to offer specialized advice based on the sector and characteristics of each client, and to support them in their transition toward a greener and more inclusive future. BBVA currently has a total of 17 training programs that combine the 40+ courses that have been specifically developed for this purpose.
Programs are also prioritized for experts in the design and development of 'end-to-end' sustainable products and services for professionals in areas such as standards, risk, compliance, business development, reporting, etc.
In addition to the experts that provide support by sharing their knowledge as internal trainers, BBVA also collaborates with top-tier institutions, such as the universities of Oxford, Cambridge and Yale, training programs from the United Nations Environment Programme Finance Initiative (UNEP FI) and first-rate certification institutions such as Chartered Financial Analyst (CFA), European Federation of Financial Analysts Societies (EFFAS) and the Global Association of Risk Professionals (GARP), among others.
BBVA also promotes sustainability training for society through other programs such as:
The course `The ABCs of sustainability´, a Massive Open Online Course (MOOC) developed in collaboration with Coursera. It is free and provides a very broad vision of the challenges, the key factors and possible solutions to achieving sustainable development.
A training course for 252 of its SME suppliers in all countries where BBVA has a presence. It is part of the UN Compact framework for the training of sustainable suppliers.
All of these training efforts demonstrate BBVA's consistency and firm commitment to one of its strategic priorities: helping its clients in the transition toward a sustainable future, and the role that financial institutions play in achieving this.