Diana Céspedes, the woman who convinced the Queen to visit her
"Sun-dried organic banana, a little bit of butter, sugar, guava jam..." Step by step, Diana Céspedes recited one of the recipes that she and other 16 women know by heart. They've already executed the same procedure a million times, but today, it has to be perfect because it's not everyday that they welcome a queen.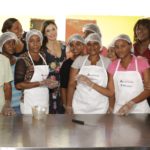 "This visit acknowledges the Dominican woman, and female farmers like us, who struggle and toil to be independent", confirmed Diana, who presides this women's association. She is an entrepreneur of the BBVA Microfinance Foundation, as well as a community leader in this district belonging to Azua Province. With the charming candor that defines her, this organic banana farmer didn't hesitate to invite HM the Queen to visit her, the moment they met during the 10th anniversary of the Foundation in Madrid.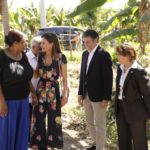 Queen Letizia speaks with Diana Céspedes, together with the CEO of the BBVA Microfinance Foundation
She came back home with a regal promise: should there be an opportunity, the Queen would go visit her. This was one year ago, and surely she never imagined that this day would come. But if there's one thing Diana knows, it's the fact that reality sometimes exceeds expectations. She remembers how not so long ago, she and her family lived on less than 30 euros per month, "Ten years ago, we didn't have anything but our two hands. We were poor and had no pretenses, we kept at life's pace."
This pace helped her find the path to be an independent woman who has succeeded in seeing her children through school, and leaving a secure future for her grandchildren; not to mention her innate ability to lead other women like her who pursue opportunities day by day.
Just like the livelihood opportunity seized by the 17 members of the 'La Esperanza' association, where they grind, knead and prepare the unexported bananas, using the tools donated by FAO, so they could have a second source of income.
Queen Letizia has been a witness to this endeavor, committed as she is to women's issues and their role in global development. These women contribute to overcoming this challenge, hoping that the Dominican government can help them so they could feed schoolchildren with the sweets they manufacture.
"Sun-dried organic banana, a little bit of butter, sugar, guava jam...", once again, Diana repeats to herself after the visit. She knows the kind of luck this recipe has brought her. Perhaps what she doesn't know yet is that the palace kitchen most probably already noted it down.