"Financial education should be a priority for all countries"
In an interview with the newspaper La República de Colombia, José Manuel González-Páramo, Executive Board Member and the Head of Global Economics, Regulation and Public Affairs at BBVA, stressed the importance of digitization and its impact on people's well-being.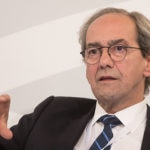 Prior to the start of BBVA's EduFin Summit, which will be held on July 11th and 12th in Madrid, where scholars and experts will discuss the importance of digitization and its implications for financial education, José Manuel González-Páramo emphasized that: "It is vitally important that all countries view the issue of financial education as a priority in their journey to greater social and economic well-being."
In his interview with the Colombian media outlet, José Manuel González-Páramo explained the benefits of technology as an essential tool to simplify the use of financial services and access to them. In this regard, he referred to blockchain technology and its potential to reduce management times for operations. Although he added that: "These technologies are still at a very early stage, and there are few use cases that are really working in a commercial manner. This means that the regulation that affects them is not yet completely defined."
On the other hand, the digital tools that facilitate financial advisory services could mitigate the lack of knowledge of this subject among certain sectors of the population. Thanks to digitization, it is not only possible to analyze data to have a better assessment of people's financial needs, but also to communicate is a simpler and more understandable way. This helps people make better, more informed decisions, especially those that are most vulnerable.
This is not the first time that BBVA's Executive Board Member has referred to data's potential to be the driver of the digital economy. However, it is fundamental that users are given greater control over their data in all industries, and the option to share their data with third parties in an authorized, standardized and secure manner. Regulation must therefore ensure a level playing field for banks and the new players from the digital world.