Garanti BBVA and TURMEPA join forces for a sustainable world and clean seas
Garanti BBVA, in collaboration with the TURMEPA association, has launched the Mavi Nefes project. An initiative aimed at raising awareness of waste disposal in the Sea of Marmara and cleaning up the waters so as to prevent marine pollution.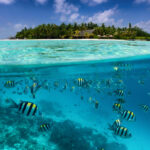 With the support of Garanti BBVA, this association will work to prevent sea pollution and eliminate the mucilage problem when necessary. During the three-year sea cleanup phase, two ships will clean the Bosphorus and will also travel to other areas to clean up mucilage and other solid waste in emergency cases.
The second part of the project is to provide awareness training for future generations. The aim is to educate across the 7 provinces (Istanbul, Tekirdağ, Kocaeli, Yalova, Bursa, Balıkesir and Çanakkale) and to train 60,000 students and 4,000 teachers.
Recep Baştuğ, CEO of Garanti BBVA, commented that the bank has been "creating initiatives for sustainable development for more than 15 years" and noted that they lead change in the business world through their many initiatives. "We are experiencing the effects of the climate crisis in different areas and, unfortunately, in recent months we have seen one of its effects on our seas. For this reason, we are launching the Mavi Nefes project with TURMEPA, not only to undertake the cleaning of our seas, but also to educate and raise awareness among future generations about sea cleanliness," he added.
Garanti BBVA has been creating initiatives for sustainable development for more than 15 years
However, Recep Baştuğ stressed that these efforts alone are not enough, awareness has to start at home, and institutions, for their part, must do their bit. Garanti BBVA hopes that, thanks to the project and the collaboration, they will contribute to the recovery of the ecosystem and can leave clean seas for future generations.
The Chairman of the Board of Directors of TURMEPA, Şadan Kaptanoğlu, thanked Garanti BBVA for collaborating in this project that will strengthen the future, stressing that their struggle for a blue and green future will continue both on land and at sea.
TURMEPA
TURMEPA is part of the Coordination Council of the Marmara Sea Protection Action Plan and was founded under the leadership of the Ministry of Environment and Urbanization to solve the mucilage problem in the Marmara Sea.