Garanti BBVA included in the Dow Jones Sustainability Index for the seventh time
Garanti BBVA once again made the Dow Jones Sustainability Index, thanks to its efforts to incorporate sustainability in its strategy and all of its activities. The bank has been included in the prestigious index since 2015.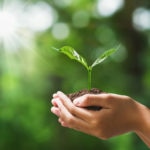 Garanti BBVA was the only company from Turkey to be included in the emerging markets category of the Dow Jones Sustainability Index (DJSI) for the 7th consecutive year. The Dow Jones Sustainability Index carries out detailed analysis of companies in order to rate them on a variety of topics, such as business ethics, governance, financing activities and environmental and social performance, risk management, climate change measures, transparency, supply chain, human and employee rights.
"Garanti BBVA has been leading our sector for more than 15 years with our work to promote sustainable development and fight climate change. We have taken a number of very important steps to combat climate change over the last two years," said Garanti BBVA General Manager Recep Bastuğ.
The Garanti BBVA General Manager was particularly proud of being the only bank from Turkey to be included in the index. "This recognition of our transparent and sustainable business approach by the Dow Jones Sustainability Index is of great importance to us and supports our strong relationship with our stakeholders," he added.