"New York is overrated. What I'm drawn to is Hong Kong, Thailand and the Moroccan desert". That's Jessica Hernández's take on things. Jessica is 28 and lives in Soacha, a modest town in the outskirts of Bogota. She travelled to New York to tell her story to the UN and there she met another fearless girl in the shape of Kristen Visbal's sculpture, which since March 8 has been locking horns with the bull on Wall Street.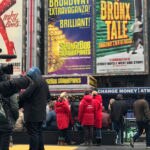 "I am a woman, I am an entrepreneur, and starting up a new business and making a success of it holds no fear for me," she says with a confidence that bowls one over, microphone in hand before the very headquarters of the United Nations, where she has just been, and where, for the first time, she struggled to hold back the tears, moved by the reaction of the women that had gathered to listen to her.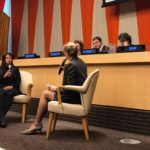 Jessica Hernández, a BBVA Microfinance Foundation entrepreneur, with María Emma Mejía, Colombia's ambassador to the United Nations during the special session held in the UN's ECOSOC chamber - BBVA's Microfinance Foundation
This other "fearless girl" takes the whole thing in her stride. At one moment she is in front of her machine sewing a pair of trousers and the next telling her story to the representatives of the main global development bodies. It doesn't matter who poses the questions, with her natural charm, she explains how she struggles every day to help her four young children get ahead and how bit by bit with the help of BBVA's Microfinance Foundation, she has done up her home, putting a roof over it and buying a new fridge. She has over the past few days told her story to the biggest media outlets in Colombia and Spain; a story that, like Jessica's own aspirations, has no limits.
But beyond her workshop and achievements, beyond her children and what drives her to keep looking ahead, there is another Jessica who is well worth knowing; equally natural, spontaneous and deep. A woman who only needs a bit of time to feel at ease and be even more open than she is, if that were possible. The only thing she asks from life is "to have more hours on the clock".
Sitting in her hotel room with a hamburger in the all American way, with the New York skyline in the background, the Big Apple does not turn her on, she admits. She prefers home. She speaks about religion, politics, and social conscience. She dwells a while on the past remembering when she thought about studying Social Communication until her father dissuaded her. "He told me that was a job for gossips," she says after having spent hours and days surrounded by journalists.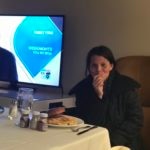 Jessica Hernández in her hotel room in New York
Her obsession has always been to study, she says. That is why she has enrolled to study Industrial Garment-making and is set on providing the best education for her children both at school and at home.
Jessica knows no limits, arguing that we ourselves impose those limits. "If you want to, you can", she says. You don't need to look beyond her first trip outside of Soacha, strolling down the streets of New York, posing for photographs on Wall Street beside the statue of that other fearless girl and dreaming of using her newly-obtained passport to fly to Hong Kong, Thailand or Morocco or who knows where. Once again, her story like, her healthy ambition, knows no limits.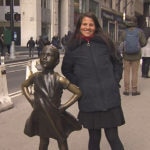 Jessica next to the "fearless girl", in New York