One night, the Swede Robert Ilijason was trying to feed his baby. The last jar of baby food left at home fell on the floor and broke, leaving Ilijason with no food for his baby, since all the supermarkets were closed. After driving for more than 20 minutes to find what he was looking for, Ilijason had an idea which incredibly enough no one had thought about before.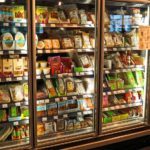 In the town where he lives -Viken, in the south of Sweden- he decided to open a 24-hour convenience store. He used his technical knowledge to replace the functions of staff employees. This is how the first employee-less store was born in Sweden:Näraffär.
Apart from being open 24 hours a day, it offers many other benefits. Customers pass a credit assessment and then download an app on their smartphone. This app guarantees access to the store and is used to manually scan the products you buy. The total amount of the purchases is charged on the same app at the end of the month.
Business security doesn't seem to concern Ilijason. He receives notifications automatically on his smartphone if the front door remains open for more than 8 seconds or if someone tries to force it open, and up to six cameras monitor the customers, whose registration and data assignment are enough to deter them from stealing the products.
Robert Ilijason hopes that this kind of stores will encourage the return of small businesses to Swedish towns, which have been disappearing with the gradual opening of hypermarkets offering competitive prices in neighboring towns. For the moment, the opening of the first store in Viken has been followed by another two projects in the provinces of Smaland and Skåne.